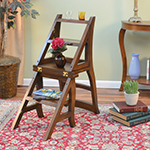 1.  Franklin Folding Library Ladder/Chair by Carolina Cottage Price: Contact for pricing Why we picked it: Said to be designed by that most delightful of founding fathers, Benjamin Franklin, when he wasn't touring across gay old Paris or stuffing lightning into bottles, the impish visage that smiles from the $100 bill was constructing crafty accessories to better aid the pursuit of knowledge. A 2-in-1 ladder/chair that also works well as a side table, this endlessly-useful accent is made from solid select Asian hardwood. Where to find it: A variety of big-box retailers.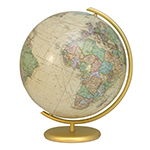 2.  Glass Desktop Globe by Columbus Price: $679 Why we picked it: Not only an invaluable reference resource not as easily duplicable by computer programs as we like to think, the globe has been, for over a century, the hallmark of the intellectual. A 16-inch glass desktop globe outfitted with the latest in cartography and a whimsically washed-out color scheme, this German designed and constructed desk ornament also features a brass-colored steel base and internal illumination. Where to find it: ColumbusGlobes.com.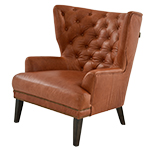 3. Dante Tan Leather Accent Chair by El Dorado Furniture Price: $799 Why we picked it: Secondary in importance to a truly awesome array of books, a library needs a posterior parker that will allow you to enjoy them. Classically designed in the Victorian mold, this grandly constructed armchair is upholstered in genuine top grain leather, constructed with kiln-dried hardwoods and accented with antique bronze nailheads, with a wing-back style perfect for co-piloting your adventures of the imagination. Where to find it: El Dorado Furniture, 2475 SW 8th St.; 305.642.4355, ElDoradoFurniture.com.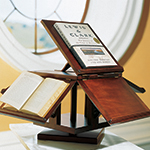 4. Revolving Bookstand by Shops at Monticello Price: $625 Why we picked it: Designed by the same polymathic 3rd President quoted as stating "I cannot live without books," the same hand that was reputed to have first brought pasta and ice cream to the New World also artificed the ultimate bookstand for cross-cataloging and reference. A line-by-line reproduction of the original constructed of solid mahogany, this 5-book stand can also hold a tablet for ease of access to our world's larger repositories of knowledge. Where to find it: MonticelloShop.org.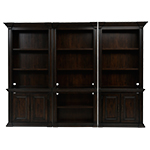 5. Grand Classic 3-Piece Bookcase by El Dorado Furniture Price: $2,799 Why we picked it: Classically designed and constructed with walnut veneer, this 4-door bookcase is artfully enhanced with antique bronze hardware. When it comes to deciding where to shelve your favorite tomes, this is a top choice. Also available in 1- or 2-piece designs, the extra storage space afforded in the larger model means it can hold any number of cherished family heirlooms and documents of extreme importance. Where to find it: El Dorado Furniture, 2475 SW 8th St.; 305.642.4355, ElDoradoFurniture.com.