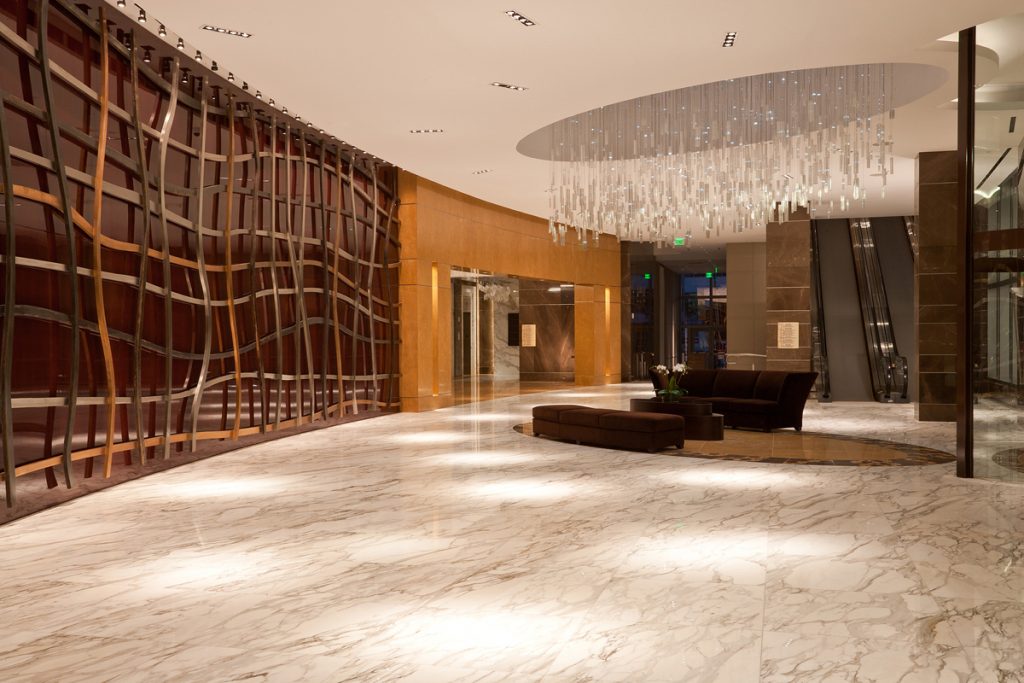 The unique amenities of the JW Marriott Marquis Miami start out with the land it sits on: The location of one of Miami's first hotels — the Royal Palm Hotel — which was built by Miami founding father Henry Flagler. That hotel played a major role in getting people to work and live in Miami, leading to its growth and its nickname as "The Magic City." Today, the JW Marriott Marquis Miami takes a similar role in helping our fair city achieve and maintain its reputation as a world-class destination and great place to live. "JW Marriott Marquis Miami is a first-to-market brand," says Paul C. Pebley, Corporate Director of Sales & Marketing for MDM Hotel Group. "The Marquis designation within the JW brand family introduced the concept of leveraging unique product partnerships within the brand, such as celebrity chef Daniel Boulud, illy coffee, Bang and Olufsen and others."
The Miami hotel opened in 2010 as part of an overall $1 billion Metropolitan Miami development, transforming Downtown Miami north of the Miami River and serving as the company's first JW property to be classified as "Marquis." Today, there's a second 1,612-room JW Marriott Marquis, which opened in 2012 in Dubai. With the condominium Met 1, the Wells Fargo Center, Whole Foods and now Met Square with the Silverspot Cinema, Metropolitan Miami has brought hotel, office, retail and residential development to the area. Like a true member of the community, the JW Marriott Marquis Miami then went on to form proud partnerships with key cultural institutions such as PAMM, Frost Museum of Science, Art Miami and Art Wynwood, among others. "All of these institutions center around the strong cultural community being built in Downtown Miami which we value and will always continue to be a part of," says Pebley.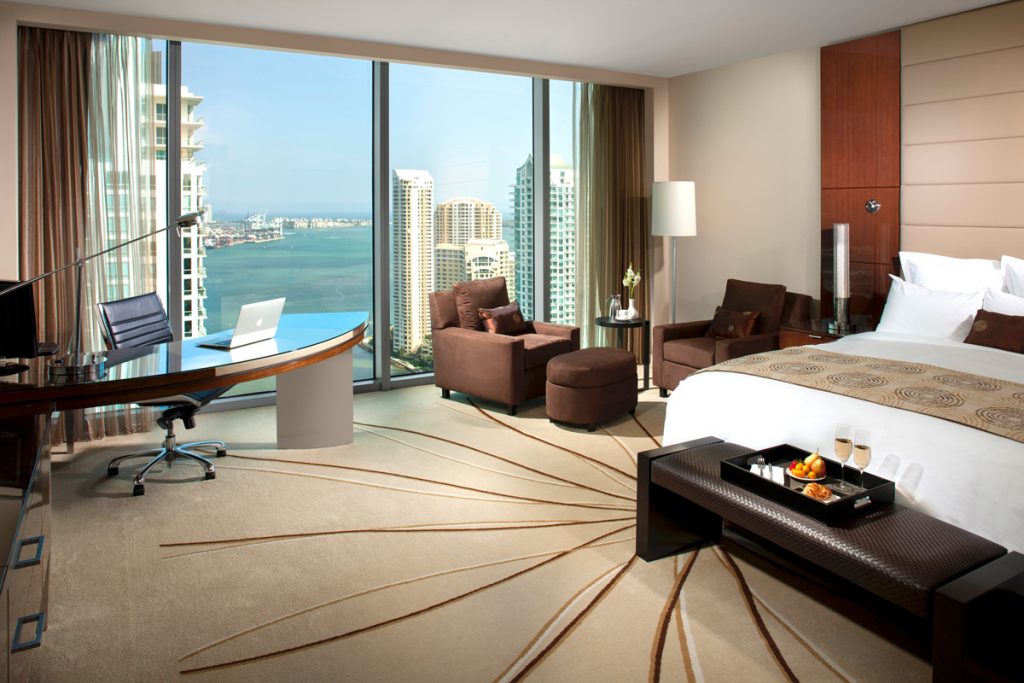 Over the past 8 years, the hotel has also cultivated great relationships with tennis players and managers coming for the Miami Open. As a result, many players are staying at the JW Marriott Marquis Miami during the event. "We host a popular party celebrating the Miami Open every year," shares Pebley. "What has become the 'unofficial-official player's party' of the tournament, the Matchpoint Passion Party is the premium event during the tournament that celebrates the great list of professional players that stay here as well as the sport of tennis itself. It's great to be able to mingle and interact with the top players in the world!"
The hotel also features an impressive array of dining and recreation options including celebrity chef Daniel Boulud's award-winning Boulud Sud restaurant and the amazing 50,000-sq.-ft. lifestyle and entertainment complex on the 19th & 20th Floors, which includes a 10,000-sq.-ft. NBA-approved indoor basketball court, sky pool, indoor golf school, billiards, 3D media room, virtual bowling, fitness center, yoga studio and a 4,000-sq.-ft. enliven spa & salon. The hotel boasts more than 80,000 sq. ft. of flexible space, including a 20,000-sq.-ft. Grand Ballroom, the largest ballroom space in Downtown Miami.
Inside of the same skyscraper as the JW Marriott Marquis Miami is Hotel Beaux Arts, located on the 38th, 39th & 40th Floors. Recently named to Marriott's Autograph Collection of Hotels, the Hotel Beaux Arts is an intimate enclave high above the hustle and bustle of the city known for its personalized concierges and service. It's the first-ever hotel to be entirely outfitted with Bang & Olufsen in-room entertainment systems including remote-controlled video & sound systems, drapery, HD-LCD flatscreen TVs and home theatre systems. Accommodations also feature rich, Brazilian cherry dark hardwood floors, touch-controlled, illuminated bathroom faucets, an iPad, luxurious bedding and a pillow menu.
When you combine all the luxury amenities and bonus perks, it's no surprise that JW Marriott Marquis Miami has become globally renowned for its quality of product and friendliness of service. To date, the hotel has been awarded Marriott's "Hotel Of The Year" three years since opening and continues be one of the top-rated hotels in Miami on hotel travel websites. "Our staff has been very stable and guests recognize many of our associates when they return for repeat stays," says Pebley.
Capitalizing on their success, MDM Hotel Group will soon be breaking ground on a 1,700-room hotel within the new Miami Worldcenter project.
JW Marriott Marquis Miami is located at 255 Biscayne Blvd. Way in Downtown Miami. For more information or to book a stay, call 305.421.8600 or visit JWMarriottMarquisMiami.com.