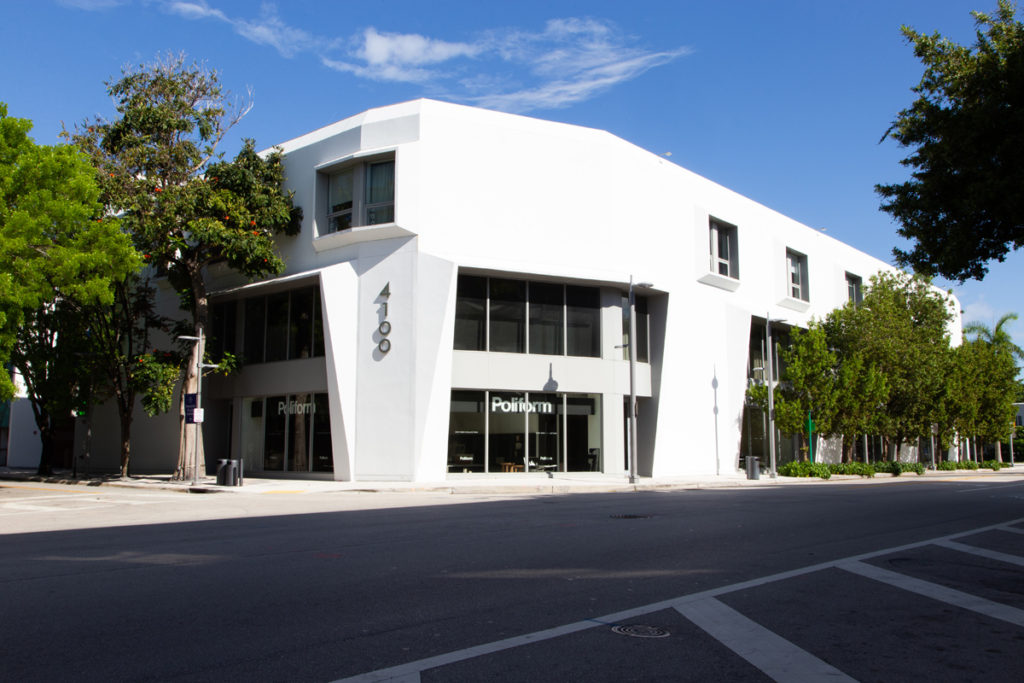 Poliform is synonymous with iconic interior design and beautiful home products in over 60 countries around the world. From the kitchen to the bedroom, through to the living room and closets, they reimagine the classic pieces of furniture that turn a house into a home, adding in their own unique elegance and chic. Poliform designs offer continuity, yet a distinctive style among the different ambiences of a home, for a total lifestyle approach. "Poliform is the story of a family business," says Luca Bizi, Managing Director of Poliform Americas. "It's tradition, search for innovation, love for beauty, pleasure to offer great products and attention to values. It's a company where tradition meets research and development of new materials. In our factories in Italy, we have built over a district that produces the quintessential excellence that we expect from every stage of our production."
Since the '70s, the Italian cabinetry, furniture and interior design firm, located near Lake Como, has produced hand-crafted, high-end products where unparalleled quality meets attention to detail. The results are year-after-year of fabulous collections, systems and furnishing for any interior space: walk-in closets, kitchens, tables, chairs, armchairs, sofas and beds. This year, the company introduced a new sofa system, Saint-Germain designed by Jean Marie Massaud, who also created a new armchair, Le Club and a coffee table, Koishi, giving life to a contemporary living room where modular elements meet different shapes in a versatile combination. 
More recently, they launched a mirror, Drop, and a wall system, Lexington. The 2022 Collection blends design and comfort for living with night areas in line with the latest trends. These products are aesthetically coherent, even if designed by different hands, and feature curated forms and masterful craftsmanship. "Poliform is a plurality of products under three elements: constant delivery of high-quality; attention to our customers; and striving for excellence," says Bizi. "Our exclusive relationship with our clients is our main focus and we want them to have the best experience possible every step of the way." 
While their clientele includes notables and celebrities, they savor their customers who write them to say that they were so happy to open the closet or the kitchen of their new house and discover that it is Poliform. "They say that it makes them feel at home," he says. 
First and foremost, Poliform is a company of people. The human dimension is the measure of everything. Each product is manufactured with exclusive technologies combined with the know-how of artisans who have been supplying selected materials and experience since the launch of the company. "Technology has been at the core of our operations since the beginning," he says. "We have built the company promising our employees and our customers that we would utilize the best and most evolved production machinery available on the market. This resonates in more sophisticated products and lifelong collections, since we strive to offer products that will last over time. We deeply invest in technology, such as introducing to our clients a 3D presentation helping them to have a precise understanding of how their home looks like, so they can make informed decisions about the best fit for their spaces via very high-quality renderings and drawings." The final results incorporate modern touches as well, such as an air purifying system in the closet or a phone charger in the day system.
What's more, large-scale international deliveries in the Contract Division represent a parallel and complementary activity for Poliform. The company dedicates its creative and manufacturing resources to each contract, improving its technological expertise and working with aesthetic and functional needs that differ from market demands. They have also developed, via the Contract Division, tailor-made relationships with selected developers who see Poliform as an added-value partner in a long-term approach. Presently, their main focuses are mansions and luxury condos.
In the end, it all comes back to the people. "I love our teamwork approach and empathic leadership style," says Bizi. "The daily sharing with our CEO in The Americas and in our headquarters in Italy allows us to define a shared strategy that has been constantly adapted to pursue new opportunities." To that end, they've introduced a relaxed time in the office where employees can share some of themeselves with others, going far and beyond pure business roles. "Of course, all of this happens in front of Italian coffee and sweets," he quips.
Poliform's talent lies firmly in its know-how, a capacity that merges culture and knowledge and which, prior to becoming a gesture, is a design idea. It's the elegance of "Made in Italy" and strong craftsmanship traditions that allows the firm to create products with endless style and attention to detail that is recognized — and appreciated — across the world; Poliform.com