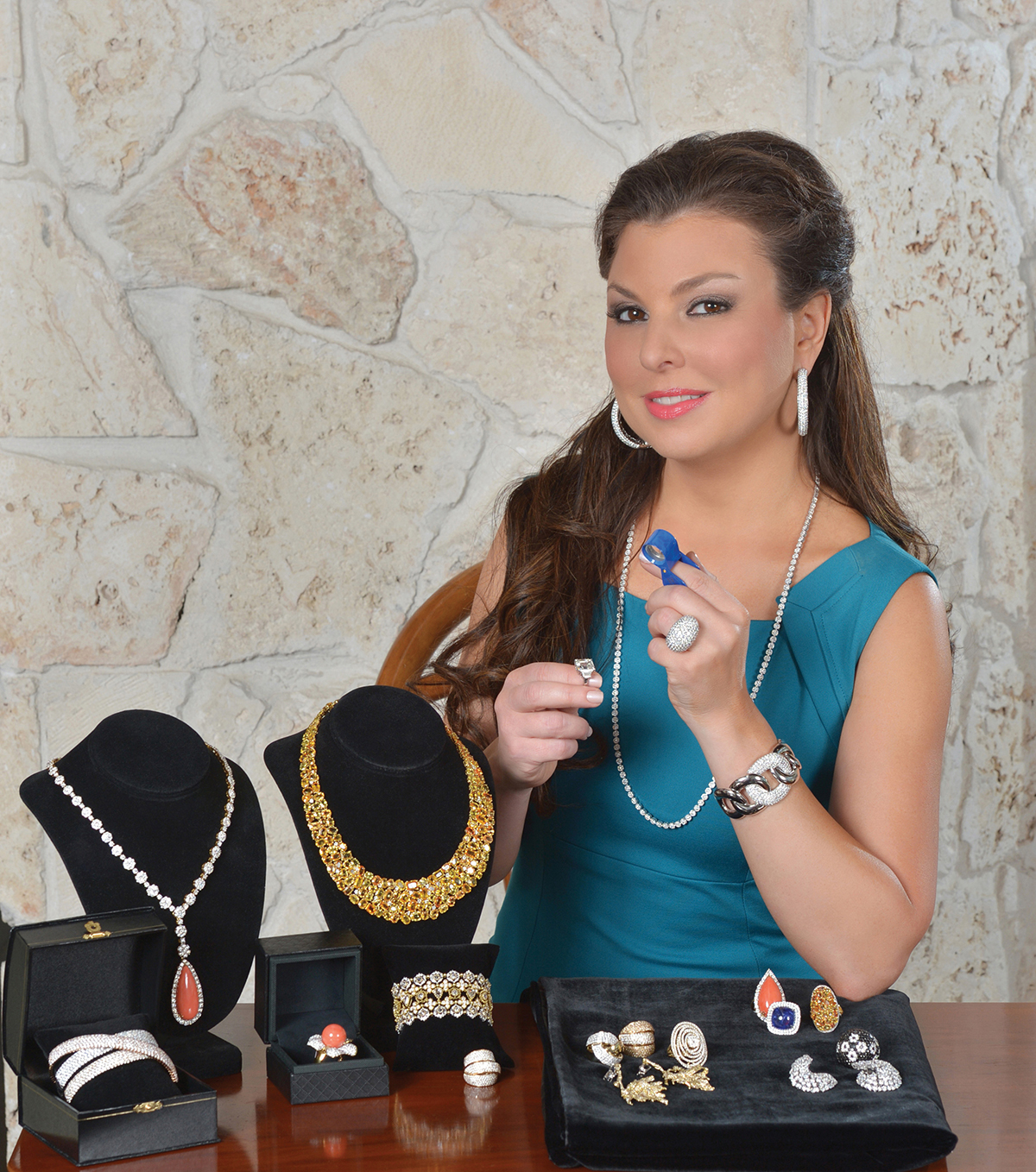 A personable professional with an unimpeachable resume of accolades and education, combined with a razor-sharp focus and a penchant for community involvement, Christina Termine's journey to the apex of South Florida fine jewelry stardom started at a tender age, when few are forecasting their future passion and life-long career. "My love affair with jewelry began at 10 when my sister and I played dress up with our mother's opulent costume jewelry collection," says Termine, who recently celebrated the 10-year Anniversary of her company, Key Biscayne-based Diamonds On The Key. "My mother was a jewelry buyer for Jordan Marsh department stores [a forebear of Macy's] in Boston, where I was born and raised. Our favorite pair of earrings looked just like miniature crystal chandeliers and we would argue over who would get to wear them!"
Eager to follow in her mother's footsteps, and aware that all things worth having are worth working for, Termine's next step took her to the ground floor of the gem industry. Integrating her career path into her high school schedule, Termine gradually worked her way up the ladder, transforming an afterschool and summer job with a family-run jewelry store into a permanent position at one of Boston's most esteemed Downtown gem companies. At just 22, she was officially acknowledged as a "Fine Pearl Buyer" and steward to a $1 million dollar budget. "Classic cultured pearls and conservative Boston went hand-in-hand, so my department was very successful, and I found I really enjoyed designing pearl necklaces and bracelets with colorful gemstones and gold beads mixed in," she says. Further into her career, she was hired at iconic Boston jeweler Shreve Crump & Low, the oldest purveyor of luxury goods in North America. "During my tenure as a Fine Jewelry Buyer, I was challenged with the task of revamping the company's dowdy and stuffy image, so I brought in modern jewelry designer collections to attract a younger crowd, as well as assisted in planning a year-long campaign of special events to celebrate the company's 200th Anniversary," she says. "It was a glorious time in the history of that company and I was really proud to have been an integral part of it."
Eventually accruing a Graduate Diamonds Diploma from the Gemological Institute Of America [GIA], Termine decided in 2007 to lay down roots in Key Biscayne, realizing with her keen entrepreneurial eye that there was a lack of dedicated designer jewelry services on the island. "While I was the USA Distributor for several prestigious Italian jewelry brands, I realized that Key Biscayne was lacking a true full-service jewelry store that offered loose diamonds, high-end jewelry, appraisal services and expert repairs," she says. "So I packed my bags and moved down to paradise."
No stranger to the clench of a challenge, her integration into our close-knit community is every bit as impressive as her professional successes, including a network base that runs seamlessly from professional contacts to local philanthropic interests she's taken to heart. "From not knowing a single person when I first moved here, I'm now very blessed and truly fortunate to be able to call a sizable amount of the residents of our island paradise my friends and clients," she says. What's more, her tireless involvement with local clubs, institutions and non-profits includes St. Jude Foundation, Pan y Amor and annual crustacean-encrusted extravaganza "Stone Crabs Under The Stars" produced by Key Biscayne Presbyterian School. "The small size of the island combined with strong community values makes Key Biscayne an ideal place for me to call home and to run my jewelry business," she says.
Rarified resume aside, even those unfamiliar with the "whys" and "wherefores" of the fine jewelry world's certifications, Termine lives and breathes by one simple premise: There are few places she won't go to ensure the satisfaction of her ever-growing customer base. Offering an old-world attention to the individual needs and wants of her clientele, Termine finds the best way to differentiate herself from the competition is to provide a personal touch increasingly rare in a sometimes dizzying digitized world.
"I keep a database of my client's anniversaries and birthdays and send friendly reminders of gift suggestions," says Termine, whose undoubtedly forestalled many a dissolved marriage with her timely missives. "Often, the husbands are so last-minute in their selection that I have literally delivered some very expensive pieces by hand to a mailbox in front of their home, while I wait nearby behind a tree to confirm he has come out to retrieve it! Or, we may meet in the CVS parking lot while he 'runs out for milk' to pick up the gift! Once, a female client had given me all her fine jewelry to repair, clean and polish. Then she remembered a wedding she was attending and realized she had no jewelry to wear! So, I literally took off every piece of my own personal jewelry and lent it to her!"
Internationally savvy yet lovingly local. Streaming on social media with a personal touch entirely outside the experience of even the most modern businesspeople. Financially savvy and unerringly obsessed with her clients' satisfaction. If these seem like paradoxes, then perhaps you need to meet Christina Termine. Because all those quaint qualities that set her company apart from other jewelry houses are the same qualities that make our city shine — and give clients of Diamonds On The Key that extra-special sparkle.
Available by private appointment only, Diamonds On The Key's services include Custom Jewelry & Design, Repair & Restoration, appraisals, diamond remounts, jewelry makeovers and diamond upgrades; +1 305.851.1460; [email protected]; DiamondsOnTheKey.com.