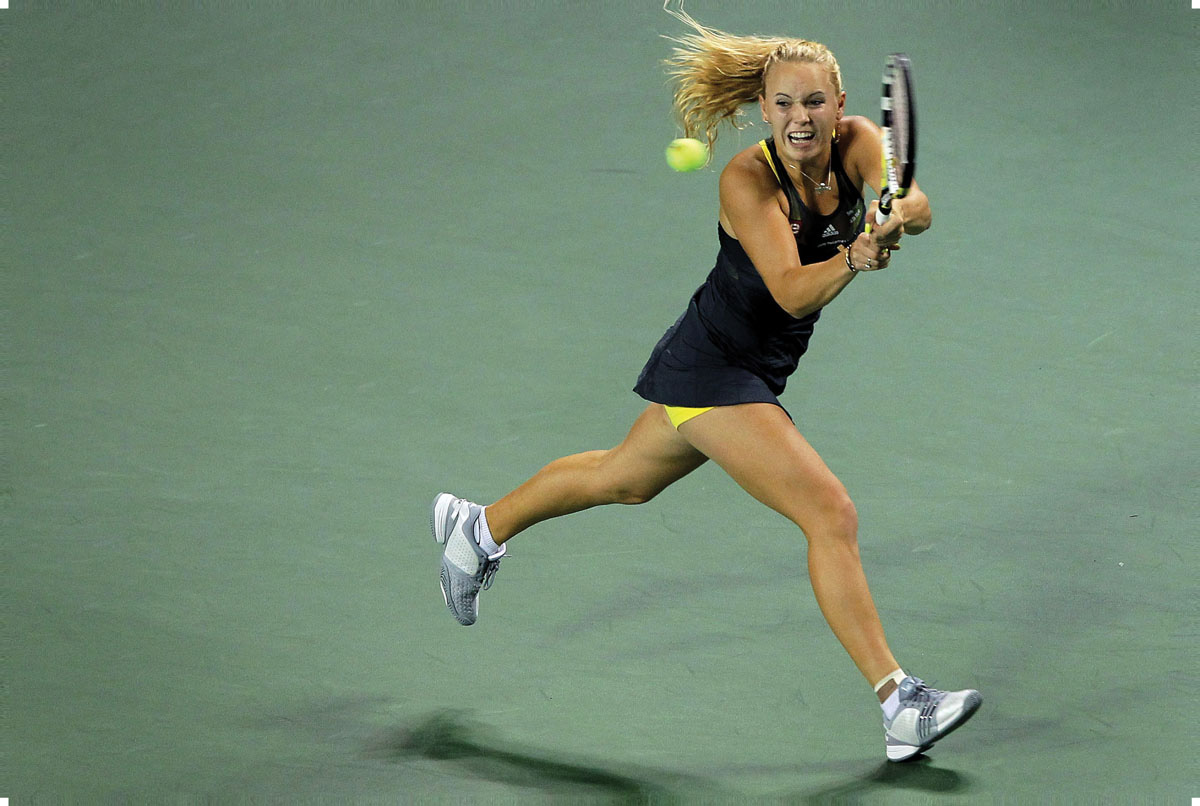 There's a myriad of explanations for why Caroline Wozniacki is just 20 years old and at the apex of her professional career, with no indication that she'll look back nor head down. Could it be the effect of the law of attraction? She has kept her eye on the prize since taking up athletics — first swimming, then in soccer and ultimately playing tennis, all beginning around the time she could walk.
Then again, athleticism is in her genetic makeup: Her parents, Piotr and Anna, were professional athletes in their native Poland — her mom a professional volleyball player; her father a sought-after soccer professional. Today, Dad is her coach and #1 fan. "I remember my parents and brother were playing for fun in the summer and I was the umpire because no one wanted to play with me," she says. "So I took a racquet and some balls and began to hit against the wall. I always set small goals for myself. First I wanted to beat my parents, and then my brother. When that happened, I kept setting goals for myself and quickly found out that I was better than others my age."
When she was 14, Wozniacki won the singles title in the Osaka Mayor's Cup in Japan, proving she had the potential to win big. Fast-forward a heap of titles — including the Junior Championships in Wimbledon in 2006, six Sony Ericsson WTA Tour Singles Titles, a 2009 debut Grand Slam singles appearance in the finals, and 2010 wins in Ponte Vedra Beach, Copenhagen, Montreal, New Haven, Tokyo and Beijing — and the Women's Tennis Association (WTA), the global leader in women's professional sports, has ranked the unstoppable right-handed "Great Dane" at the No. 1 spot of a list whose Top 10 rankings feature players from 10 different countries.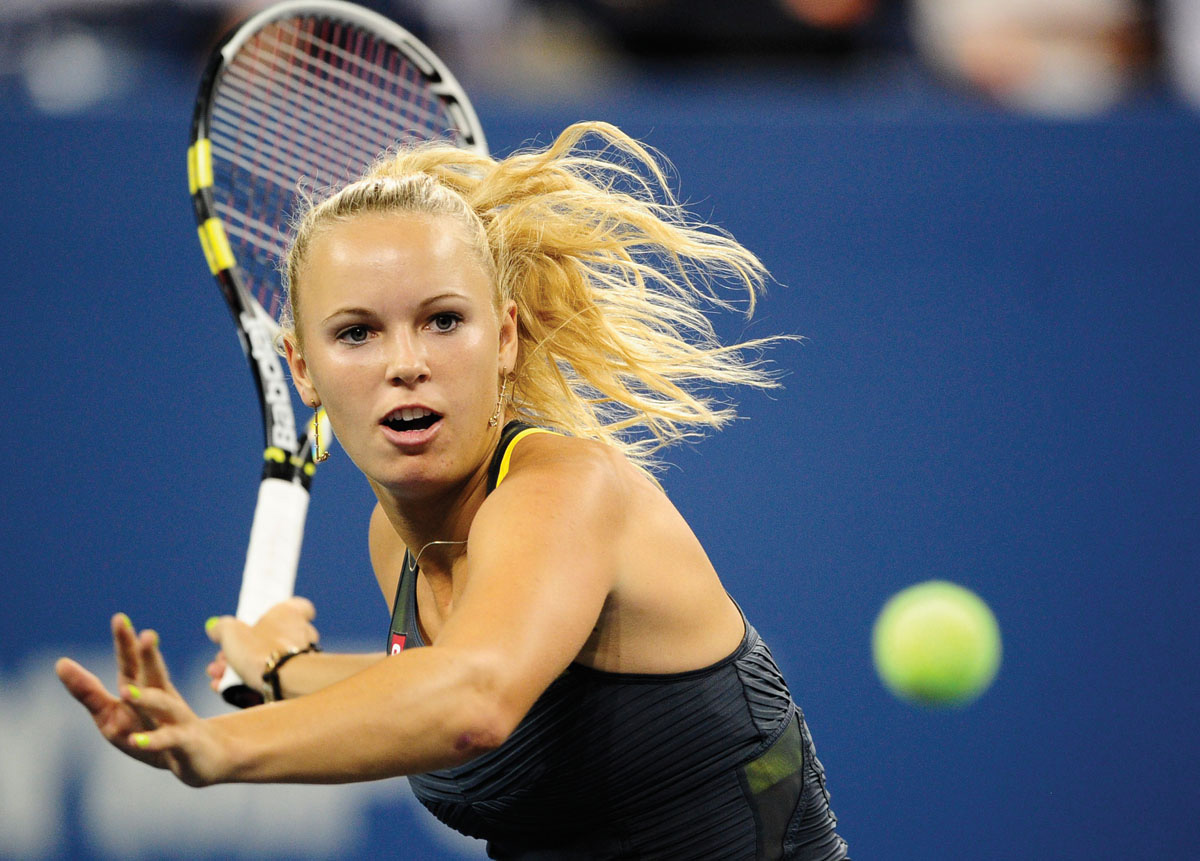 Whether we go back to discuss her days on the court versus her family, or to her biggest tournaments to date, every victory is just as sweet. "Every tournament won is a great feeling, definitely what I train for," says Wozniacki, still humbled by the winning shot last year in Beijing that placed her at No. 1. "It was a moment I dreamed of since I was a little girl. I think it took me some time to realize I actually was No.1 after that shot. They put together a nice ceremony, that's when it felt real."
While some speculators have gone as far as saying that it's the absence of the Williams sisters, who have been out of the game due to injury, that helped Wozniacki climb to the top spot on the WTA in 2010, she is quick to respond by giving credit to the women in tennis who have paved the way. "The sport is lucky to have a great history of marketable stars," she pronounces. "Players like the Williams sisters, Ana Ivanovic and Maria Sharapova have all led the charge before me."
Now she's in pursuit of winning her first Grand Slam, although the goal does not take for granted what she has already accomplished. "Of course the accomplishment of winning a Grand Slam helps back your No. 1 ranking, but I don't believe being No. 1 is any less of an accomplishment without a Grand Slam."
Sporting styles by designer Stella McCartney through 2011, Wozniacki is eagerly training for her return to the purple courts in Key Biscayne. "It's a great tournament and I want to try and play some good tennis and do my best," she says. "I'm going to prepare by playing Indian Wells before, as well as with a little bit of a practice week to try to find my good form."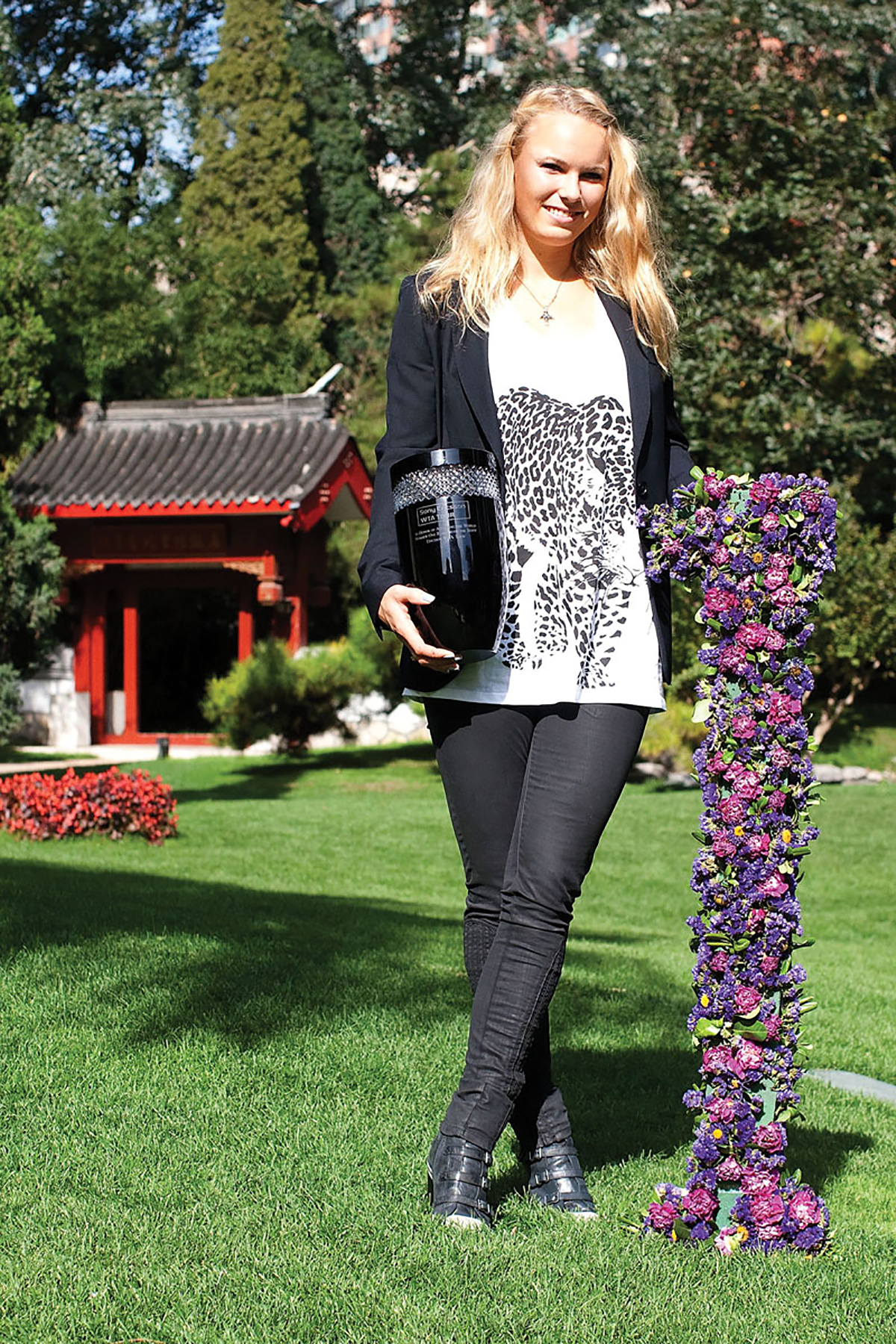 By a little bit of practice, she's referring to 3 hours of tennis daily, plus an hour of running, accompanied by interval and strength training — and that's just in the off season. "My attitude on training depends on the day and how I hit the ball," she says. "Sometimes I prefer to be on the court, other days I wish I could be back in the gym because there I always feel good!"
For Wozniacki, the experience itself of playing on the Key is just as meaningful as a victory. "You get wiser from your losses, if you can say that. I've had some good matches there, plus the crowd is incredible," she says, anticipating her stop in South Florida. "The weather is always nice, and I especially like the beach. I like Miami in general because like New York, one of my other favorite places to visit, the city never sleeps. There's always something going on."
While constantly traveling around the world can take a toll on personal relationships with friends and family, it's Wozniacki's upbeat personality and optimistic outlook that keeps her smiling and winning regardless of where she finds herself. "The opportunity to visit so many new places and meet new people is what makes it most fun to be a professional tennis player," she says. "No day is ever the same."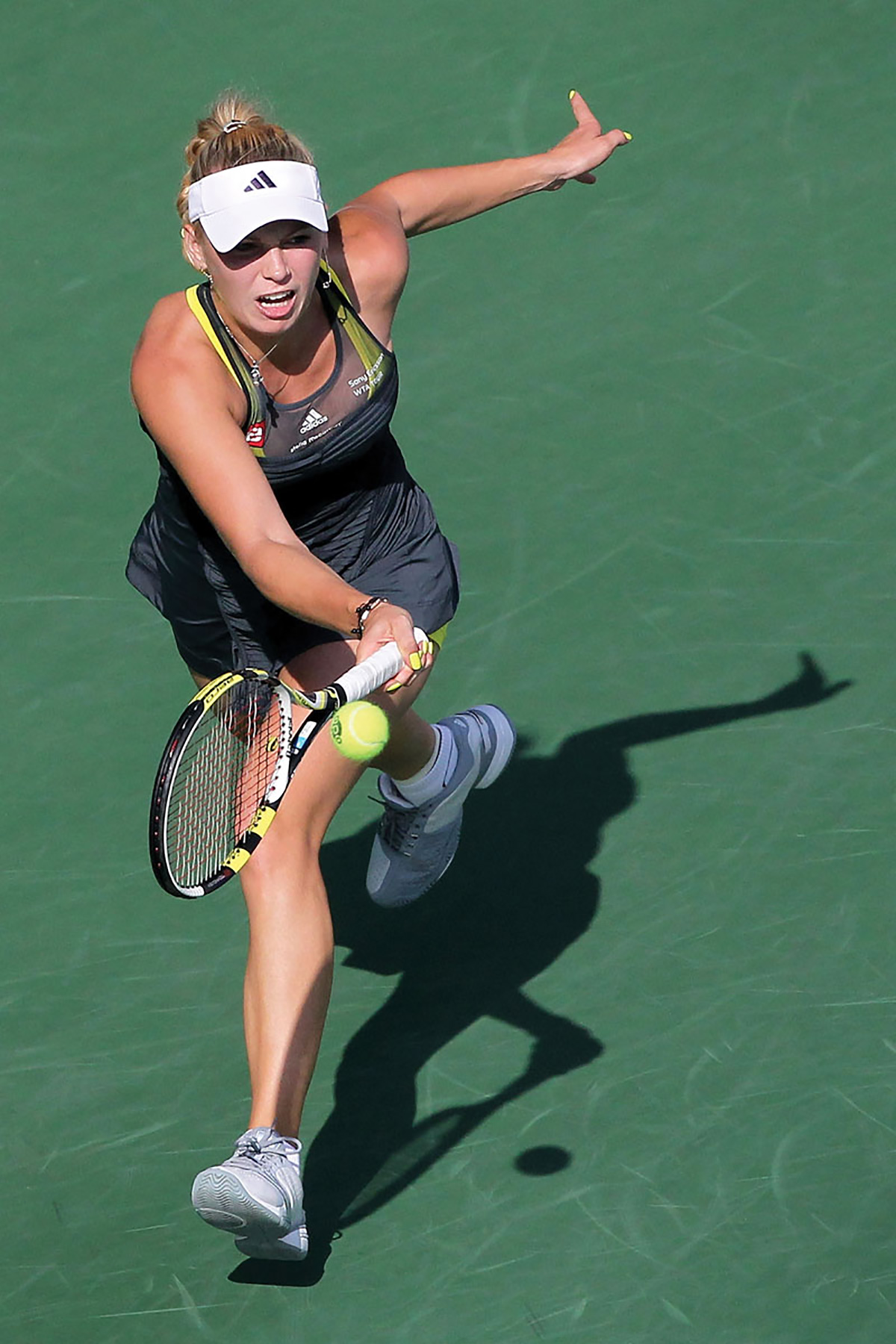 After all the training, tournaments and traveling, one would assume she would turn her mind off the sport. Not so. Instead, she uses her pent-up energy to connect with her fans, posting regular updates on her blog. It's no wonder the press loves her. "I think it's really nice for the fans to know what I'm up to and get a different angle of me than just on the tennis court."
With so much accomplished at such an early age, you have to wonder what's left on her to-do list. How about a co-ed match? She's game. "I would like to play against Rafael Nadal," she says in all seriousness. "It would be kind of cool — he's such a fantastic player, a fast runner and an overall great athlete." You heard it here first.