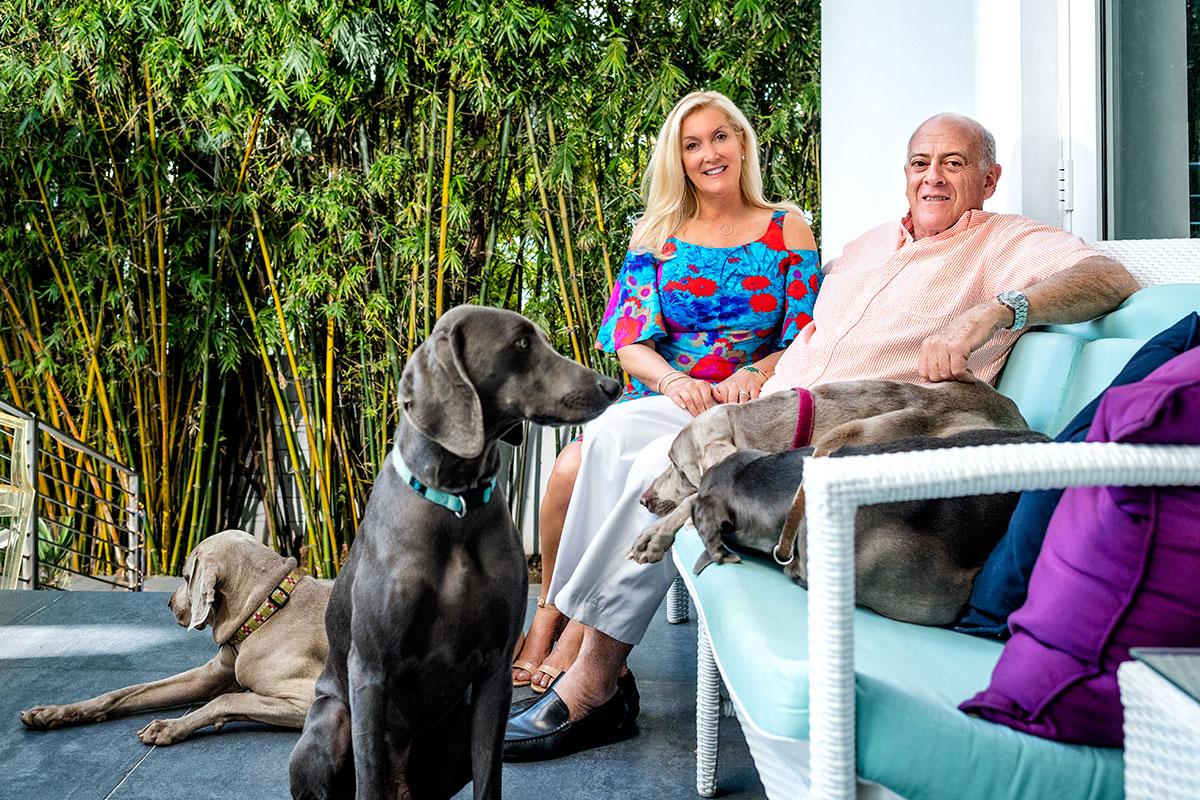 "The only ones I can help are the ones she hasn't gotten to yet," Edward London says 20 minutes into our interview, smiling lightly at his wife Claire. She laughs and playfully cuffs his shoulder. Surrounding us is a modest, modern mix of personal and professional paintings, the white couches where Ashley, a 3-legged Weimaraner rescue, lolls luxuriously. I realize that it was almost instantaneously, nigh seconds from the moment I was embraced at the doorway, that this harmonious house in a scenic corner of Key Biscayne was transformed into a home with tender-loving attention to every detail.
Denizens of The Key for decades, it's hard to find an aspect of island and Miami life untouched by this colorful, charitable couple. From the professional, to the political, to the philanthropic, The London's lead a life firmly in mesh with ancient ideals of civicism, of gaining and giving back to their community in what appears to be a roughly equal measure, eager to lend a hand at any level, whether it's sitting on a board, financing a foundation or taking in strays. It's easy, through check-writing and the occasional gala cameo, to appear charitable. But the warmth and life of this duo, of their home, the matrix of good-natured ribbing and effortless affection that defines their lives, makes it clear that they don't just seem charitable, they are, in a manner that communicates not only through stately chairmanship positions and platinum plaques, but genuine humility and a deep-seated sense of tolerance and respect.

Unsurprising to any who know him, Edward London, Columbia University graduate, Founder & Principal for a number of notable Key businesses and former Vice Mayor for the island he loves so much, didn't begin his life in the vaulted position he currently occupies. Born in a working-class Philadelphia neighborhood to working-class Philadelphia parents, one is particularly impressed with the ease he rattles off positive adjectives to praise his progenitors. "My parents were wonderful, loving, kind, generous and considerate," he says. "They told me I could do anything I wanted if I just tried hard enough." Perhaps not philanthropically inclined in the manner we are familiar with today, Ed recalls his parents as always being helpful to anyone in need. After graduating high school, he sought employment in that most iconic of Pennsylvania institutions. "The only job I've ever had in my life, and by a job I mean getting up to do something for an income that you don't want to, was working in a steel mill for two weeks," he says. Engaging in a sizeable smattering of business interests before getting his MBA, Ed landed on Key Biscayne in 1973 and hasn't looked back since.
Although born a continent away, a cursory glance at the biographical background of Claire Amerena London shows a life shaped by remarkably similar circumstances. Raised by parents she describes as kind, sweet and self-effacing, Claire's father and mother (a World War II fighter pilot and nurse, respectively), imbued her early on with an imperative to think of others before herself. After attending college in Philadelphia, she opened and operated two clothing shops in London, traveling between Italy and France to negotiate sales. Springboarding these early successes into a career that eventually landed her as Head of the Personnel Department and Assistant to the Owner of Browns, a leading fashion conglomerate in London, Claire found that external success didn't necessarily translate to internal fulfillment. "The fashion business was fun and exciting," she says. "But it left me feeling empty inside." The product of a household imbued with a neighborliness and selflessness notably absent in our ostensibly more enlightened age, her subsequent hiatus was no spa getaway or lavish meditation retreat. When Claire London decided to take a break from high-flying corporate life, she did what came natural to her: She helped, spending her days teaching art to children with Cystic Fibrosis in a London hospital. "It was the only thing that truly made me happy," she says. "And it was then I decided to study acupuncture and yoga so I could continue helping people." Moving to Key Biscayne in 1990, Claire quickly fell in love with the fantastical fusion of small-town living and metropolitan amenities that has drawn so many to the island.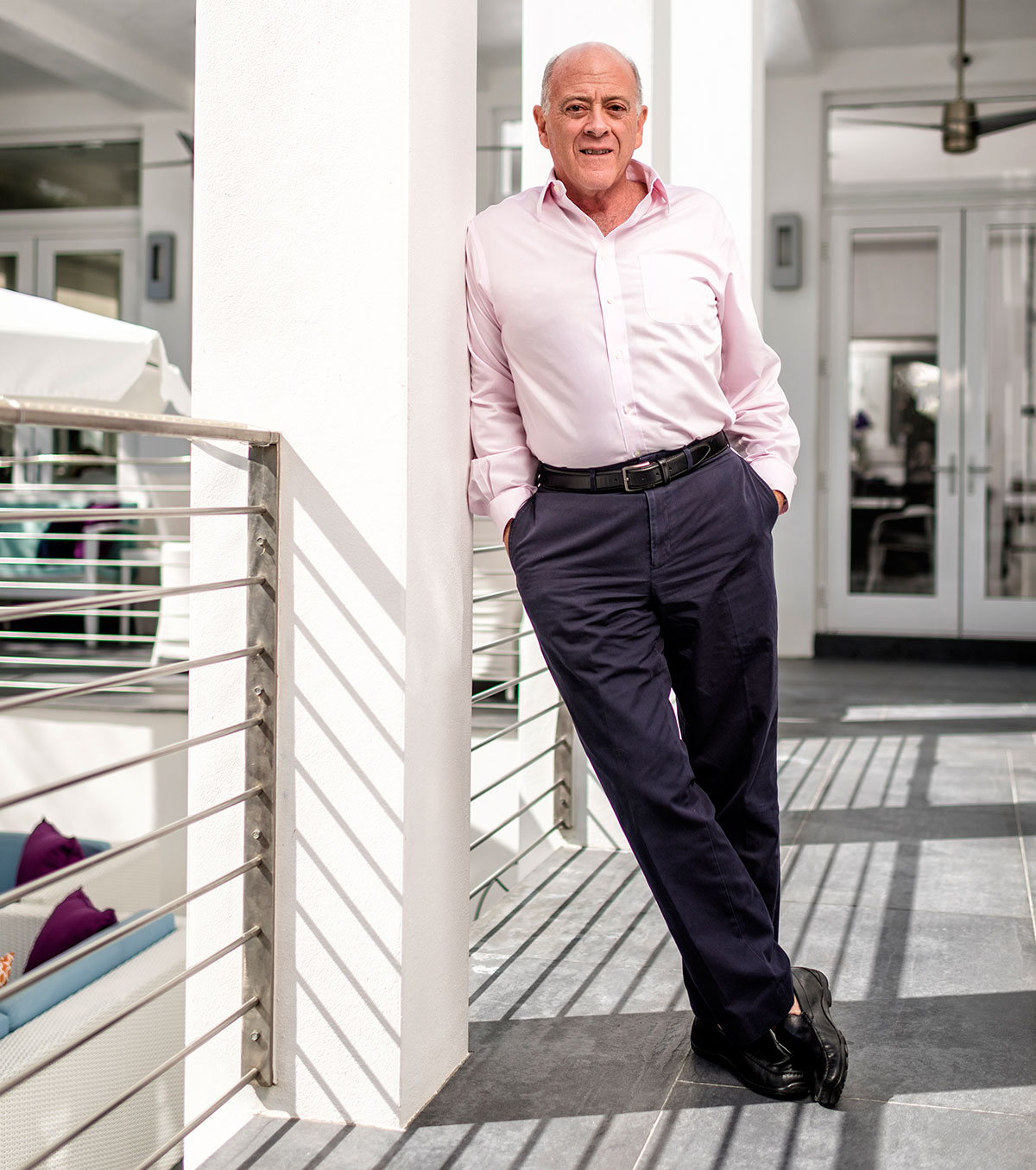 Meeting in 2002 and marrying in 2009, The Londons' is an autumn romance, full of the satisfaction and contentment found in a pairing built not on pressures personal and social, but mutual passion and an easeful partnership. Working together both professionally and politically (despite, it must be stated, sitting on opposite sides of the aisle; amazing for these powerfully political climes, Ed is a Republican and Claire a Democrat), it is clearly in the realm of philanthropy that this dynamic pair truly shines. "We enhance each other, we complement each other," says Claire. "We share exactly the same sentiments toward sharing. I can call Ed and say this person needs something and without question he'll say, 'Yes, let's make it happen!''"
Genuinely humble in an epoch where the slightest charitable contribution is blasted across the furthest reaches of the twitosphere, ("Altruism is not something to broadcast," says Claire, with Ed echoing the same sentiment), The Londons are tight-lipped about their charitable contributions and board positions, although this quiet couple is involved in a staggering array of charitable works — from local stalwarts Camillus House to internationally renowned animal rights group PETA, with many organizations in between. Proof that they practice what they preach, The Londons' philanthropic efforts spill over into the domestic sphere; they are the owners of no less than 5 rescue dogs, many of which were abused in a manner that would make them unattractive to adoption, one saved only a day away from euthanization. In fact, The Londons lean toward animal rights projects, and are ardent vegetarians outspoken in their disdain for current factory farming processes.
Necessary whenever mentioning The Londons and their philanthropic work is the Key Biscayne Community Foundation and its Executive Director, Melissa McCaughan White. It was established to enable and facilitate meaningful charitable contributions from many Key residents and can count among its successes the stewardship of much of The Londons' financial donations, as well as the establishment of the Edward & Claire London Foundation.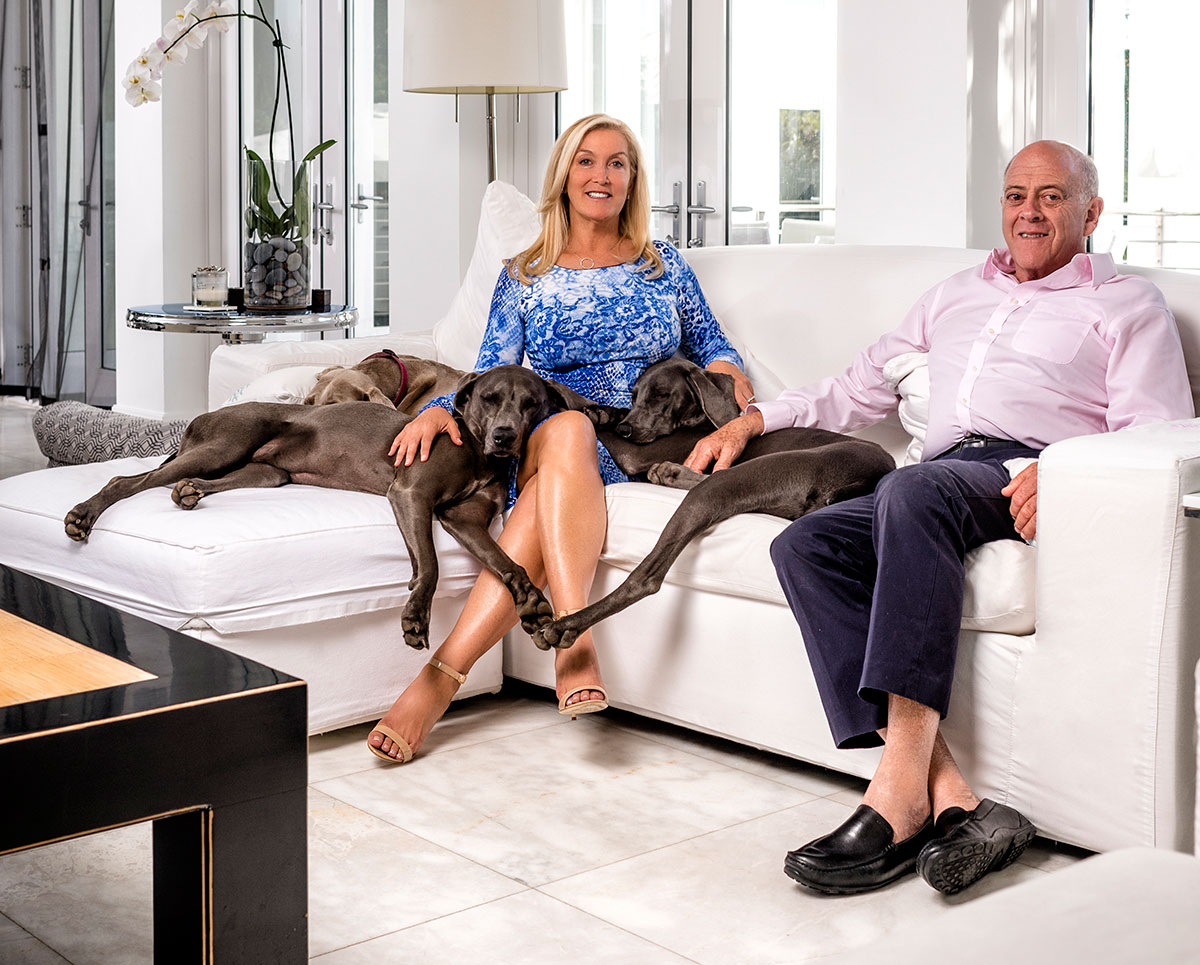 Allied together within the bonds of charitable giving, these institutions and personages have coalesced to form a substantial charitable association willing to yield positive social change both locally and on a larger scale.
Extending their example of charitable kindness toward their children, as their parents did before them, one can see the long paying dividends of a lifelong principle of selfless action apparent in one of the youngest of the London clan. "Our 6-year-old granddaughter, Madison, asked her friends to forego gifts for her birthday party," they say. "Instead, she asked that money be donated to a charity…all children need to be educated to help others, and if it starts at an early age, it can be made into a way of life. We must add to the education of children in respect to caring for others, both humans and animals, in order to make this crowded world a better place for everyone."