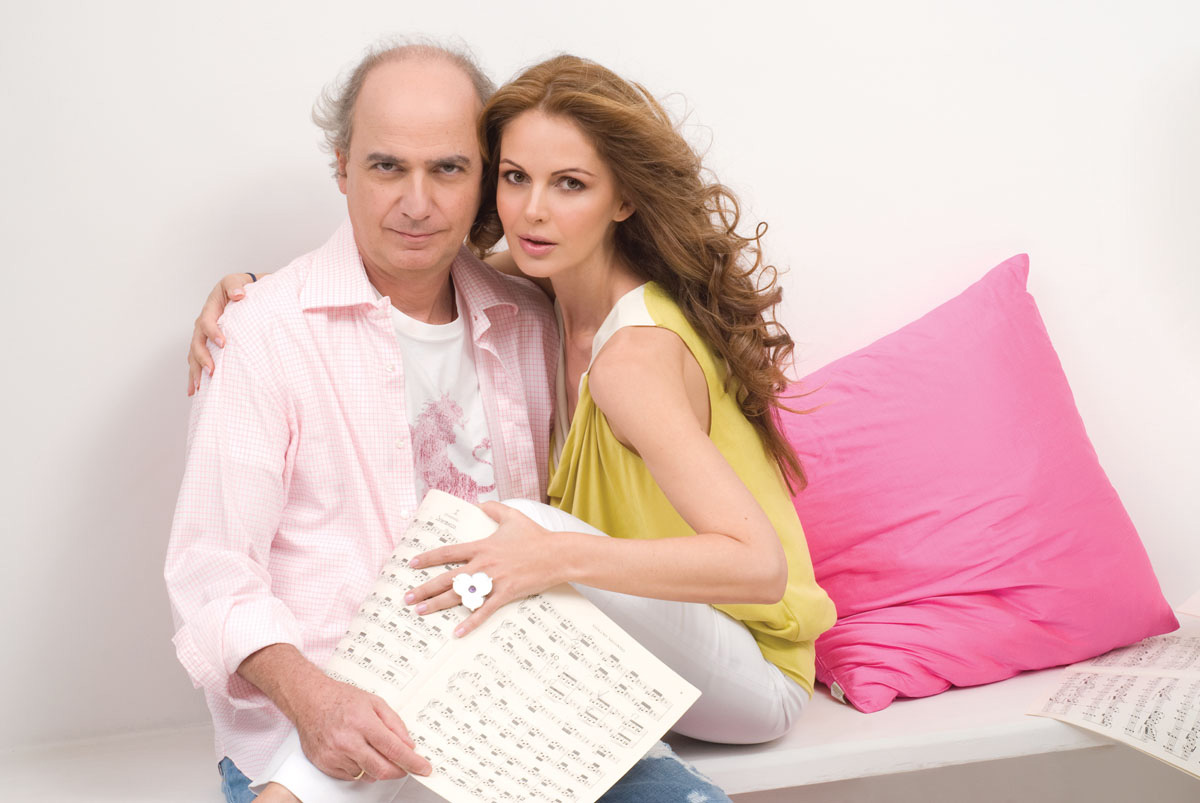 Athina Klioumi de Marturet's childhood sounds like an exhilarating adventure you'd read about in a novel. Her journey begins in Eastern Europe and through the years brings her across enchanted settings, characters and experiences that ultimately land her in the arms of Eduardo, a man who matches her exploratory spirit.
Born in Berlin, the goddess of Greek decent lived in many countries growing up, starting with Egypt. From age 12 thru 17, Athina spent the years learning to bellydance, practicing martial arts and riding horses in the desert. While living in Cairo, she learned Arabic, English and French, did her first T.V. commercial and competed in her first beauty pageant. "For me it was the most romantic, adventurous and lovely of times," she says. "It opened my horizons quite a bit."
Traveling brought Athina in touch with unique characters who opened doors to many possibilities, including karate. "My first martial arts teacher was a woman in Egypt, Hoda Hodaya. She was strong, yet feminine and beautiful. Myself and 3 other girls were some of the first females to practice martial arts in the country," she says, an experience that resulted in her first act in front of the camera. "Hoda's husband was a big-time film producer, who documented our training. I was very young and loved the discipline and challenge of training and participating in the show."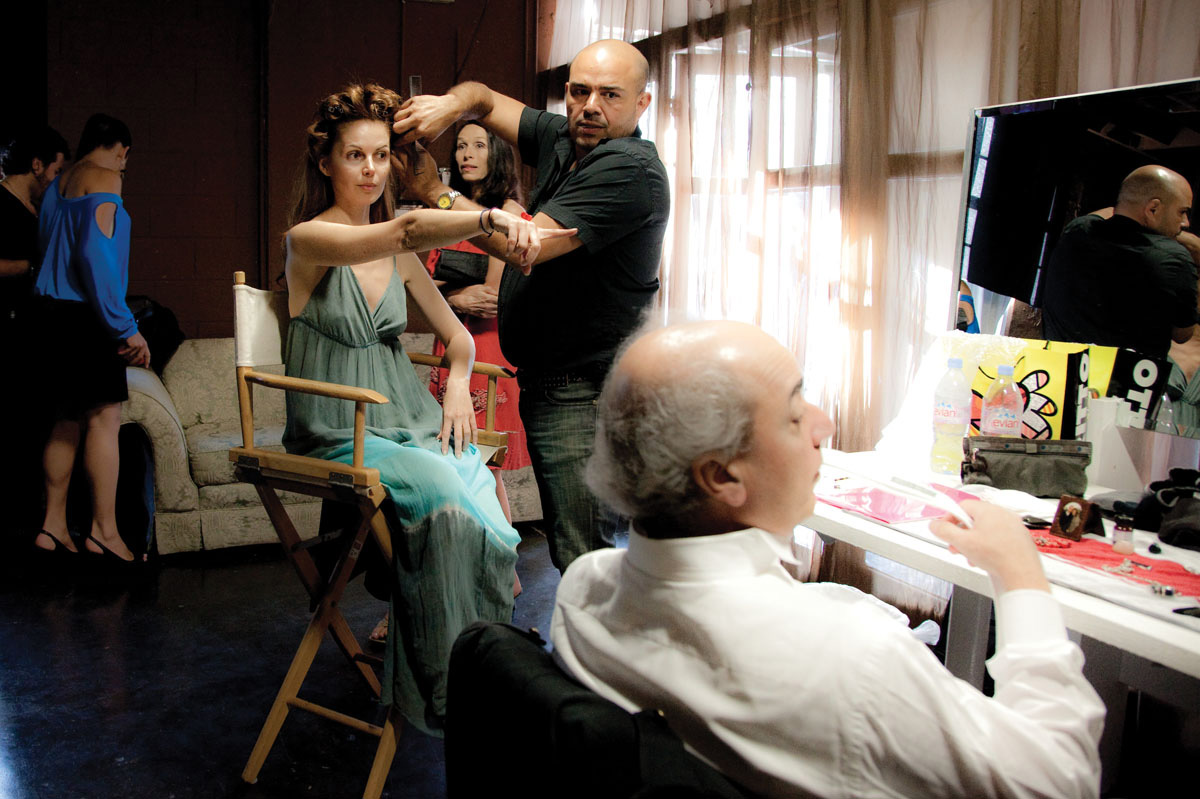 Athina remembers bicycling home from a sports class in Cairo when a producer followed her home. Young and shy, it took convincing for her to do a commercial for Nivea. "I always loved people from different cultures — and I also loved sports, art, modeling and acting. I was lucky to be surrounded by it from a very young age; it was present wherever I lived."
When her parents ultimately ended up in Venezuela, Athina was again approached by producers. That's when she started pursuing modeling and a professional acting career, taking drama classes and getting to work right away. In 1989, she represented Venezuela at a pageant in Miami, taking home the prize for the most beautiful face in the world, which earned her a contract with Revlon. "My heart is in Venezuela," she says.
It's where she met her husband, Eduardo Marturet. "We met at a cocktail party hosted by mutual friends — the connection was instant," she says, radiating the lasting feeling. Eduardo is the Music Director & Conductor for The Miami Symphony Orchestra. "My love for music started since I can remember," he says. "Most of the members of my family were businessmen and bankers; to study music was considered only a hobby. Eduardo's first foray into professional conducting began in Cambridge, England, where he studied. The career brought opportunity for travel, including to Athina's hometown of Berlin, where he conducted for 12 years.
How their careers intertwine is a strong element of their solid marriage. Athina contributes to Eduardo's work where she can, and has even performed with his orchestra. Together with famous radio host Eli Bravo, she hosted one of his last concerts, Golden Sounds of Hollywood, a Hollywood-like affair she says she loved.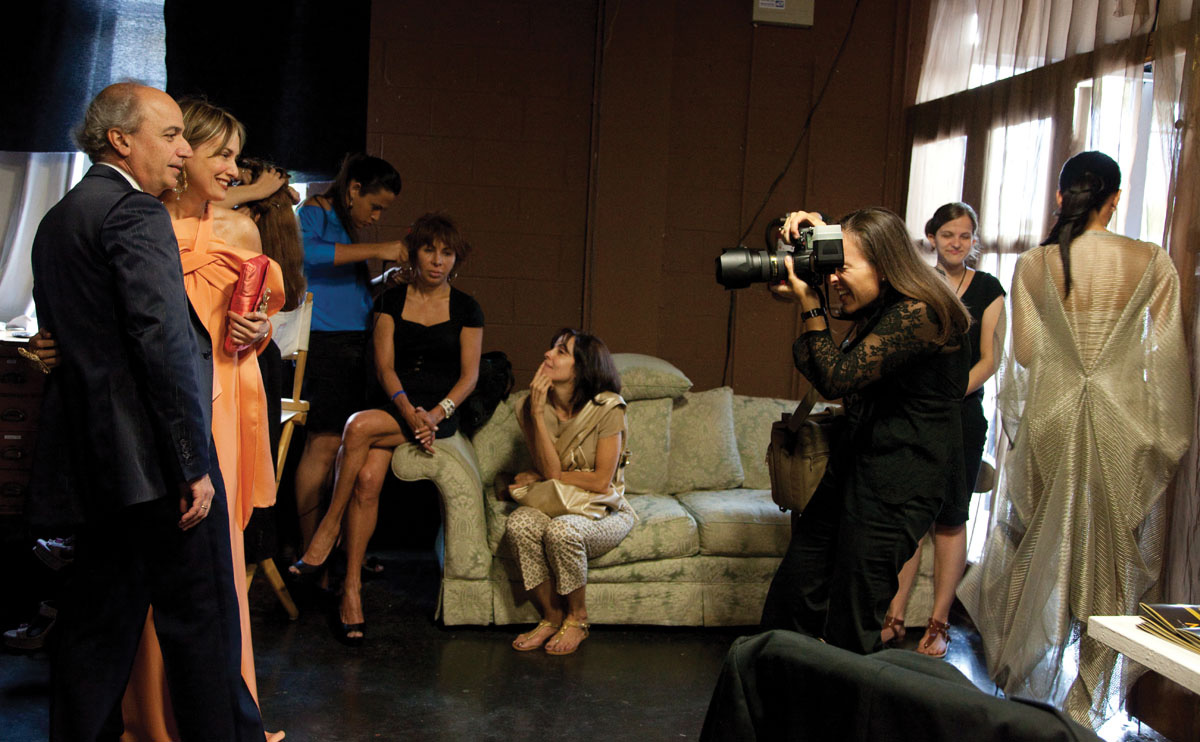 Athina still models and acts in films. Recently she did a romantic comedy in Venezuela called A Mi Me Gusta (I Like It). She plays a German cook, whom together with her English cook boyfriend, travels to Venezuela to teach cooking classes. "My character is quite nasty and criticizes everybody; during the film she undergoes a change, so the message is quite soft and makes you laugh — it's a very positive film. Basically the idea was to show that we can make films in South America that are happy, funny and with a nice message, and not always about crimes, hijackings and so on."
"I feel very privileged to have come to a point in my life were I can choose what to do," she says with genuine gratitude. "My husband and I are living the life we want to live while continually working on our spiritually. If you feel good with yourself, you can give back to others and to your entire community."
To keep together in harmony and love, music is really the soundtrack to the duo's life. As a conductor, Athina jokingly points her finger at Eduardo for studying music, many times listening to recordings until very late and very loud! They also have a lot of musicians visiting, even rehearsing in their home, and other friends with whom they have projects. Whether eating out, having coffee, lunch or dinner, or just being at home watching the view of their Key Biscayne beach, they keep each other engaged.

"My personal goal is always to be balanced, feel healthy and centered, and enjoy life with my husband and the ones I love," says Athina, who shares bits of the ways they complement each other on a daily basis. "Eduardo is maybe more formal, a complete gentleman type, very polite and calm. I'm a bit more spontaneous and loca as he says," she laughs. "When we enter customs, they always ask me: 'Okay, your husband is the conductor of Miami Symphony Orchestra and you, what do you do?' I say, 'I am the conductor of the conductor!' They all get a good laugh — and I enjoy every minute of it!"