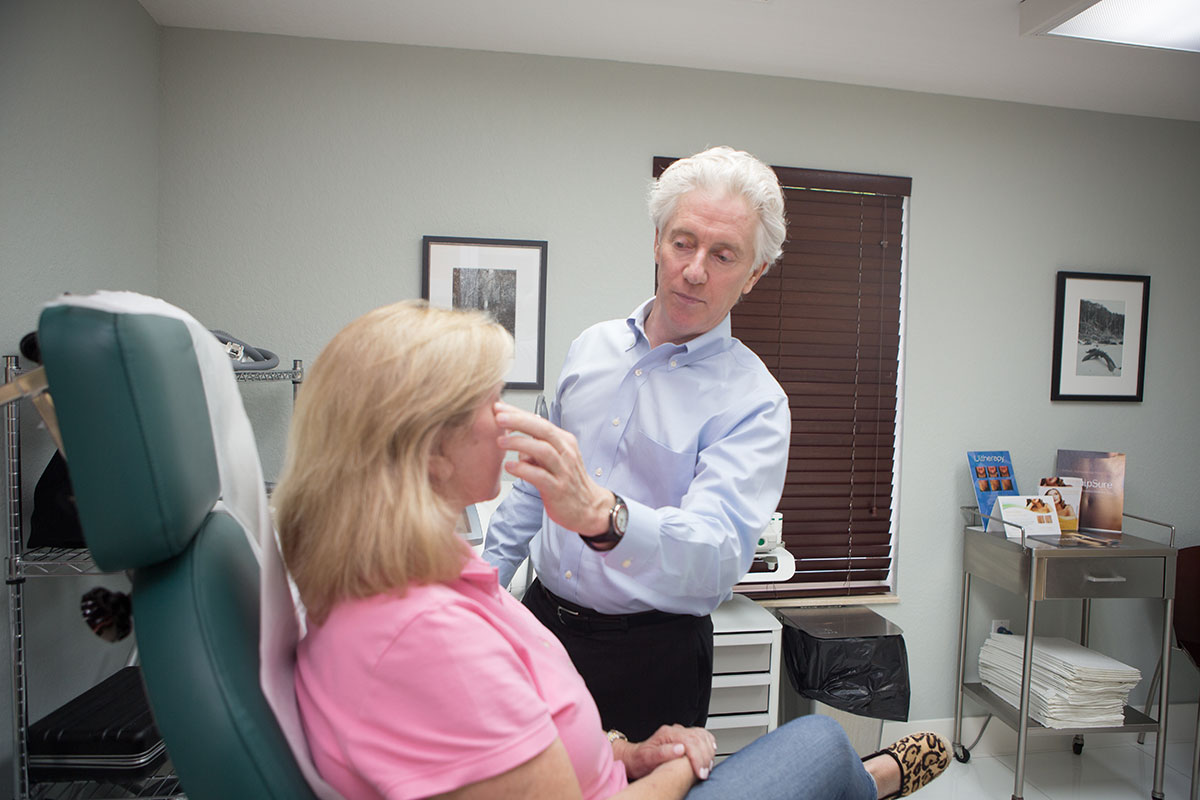 Dr. John J. Martin, Jr., M.D.
2912 S. Douglas Rd.
Coral Gables, FL 33134
305.444.5950
JohnMartinMD.com
John J. Martin, Jr., M.D., followed in his father's footsteps, becoming an ophthalmologist initially. He then did a fellowship in oculo-facial plastic surgery. "It's an exciting field with all the newest technologies," he says. "There are lots of non-surgical options now available for rejuvenation." In the last couple of years alone, he's added a pair of exciting technologies: Infini micro-needling with radio frequency for skin tightening and scar reduction; and Sculpsure, a laser treatment to reduce stubborn areas of fat on the body. These days, he does a lot of international lecturing on oculo-facial surgery and laser rejuvenation. "I enjoy both the teaching and the travel to new countries," he says. Amongst his greatest accomplishments are the cases where he helps people who have been deformed by illegal fillers to improve their appearance. He enjoys all aspects of his career, especially the social interaction with patients every day.
"I'm the third of eight children raised in a medical family in Massachusetts. My father is an M.D., my older brother and sisters are M.D.'s and 3 of my sisters have recently gone back to school to get their R.N."
Signature Treatments
When a patient comes to the office, Dr. Martin and his team first try to find out what is bothering them. Based on that, they can decide together on a plan based on their budget, downtime restrictions and benefits from the different treatments. Lower Eyelid Fat Repositioning Blepharoplasty is a treatment that sees many surgeons still removing the fat pads during lower eyelid surgery. While this may look good initially, with time, you will often appear hollow with dark circles. Repositioning the fat within the eyelid will maintain the needed volume in the eyelid. This is a more difficult surgery, but with superior results. Dr. Martin also recommends Infini. This treatment stimulates new collagen growth under the skin. It's great for fine lines, wrinkles and acne.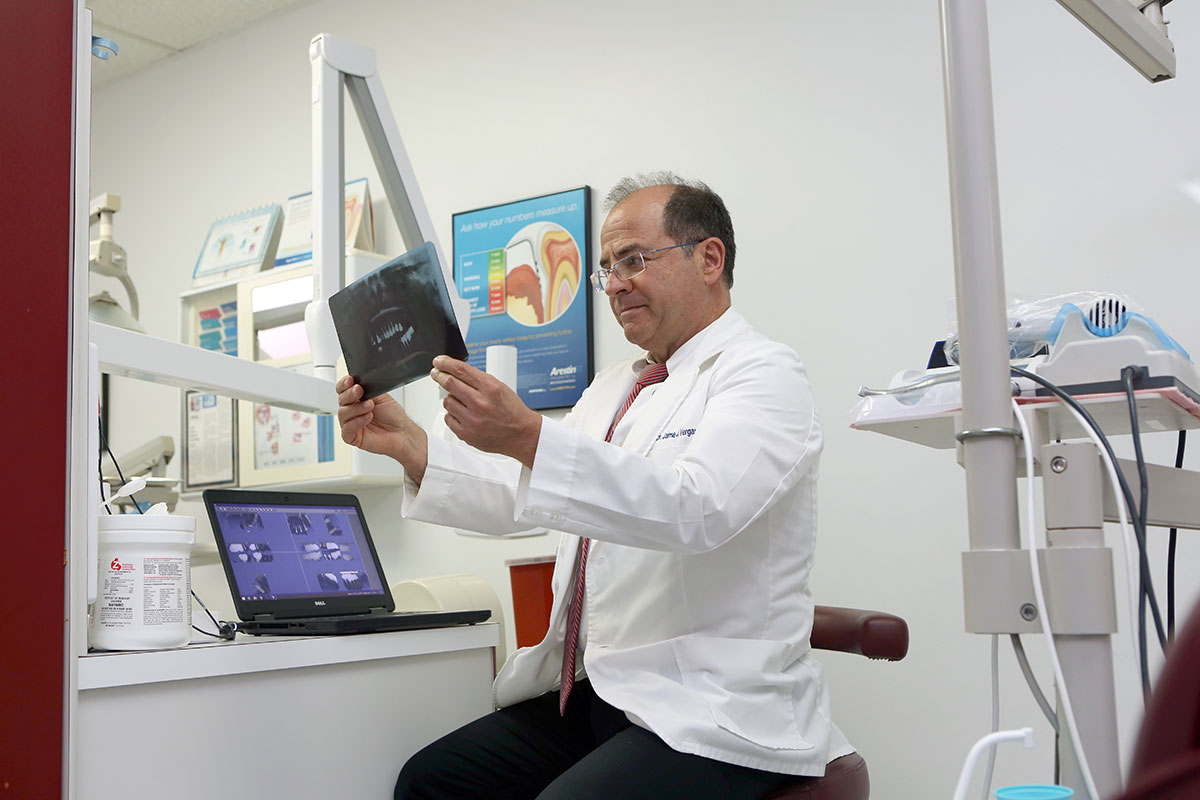 Dr. Jaime J. Vergara
Family Dentistry
328 Crandon Blvd., Ste. 220
305.360.8002
Dr. Jaime J. Vergara believes that the more you serve, the more it comes back. "My father inspired me go into dentistry," he says. "He taught me to believe in myself, be positive in any circumstance, be an honest person and become a good leader in all aspects of life." Today, he provides high-quality dental services to his patients, specializing in the diagnosis and treatment of dental diseases and malfunctions with the latest in dental cosmetic techniques. "Adios, ugly teeth," he says. Dr. Vergara is equally well-known for his exceptional chairside manner. "The funniest thing happened when I had to give an elderly woman anesthesia," he says. "I always use a pain-free technique that I learned with my father that includes vibration of the mouth muscle to relax the area while I apply the anesthesia. The lady asked me, 'Doctor why are you shaking?! Are you nervous?!'. He smiled, showed her the needle, and explained his secret. "She said I was her hero!"
"I'm a dedicated dentist with over 30 years of experience utilizing the best technology and materials. I come from a family of dentists. We all share the same passion for this fascinating, dynamic health profession."
Signature Treatments
One-Day Custom Veneers are fabricated to fit individual teeth. It's an excellent method to enhance the smile and the natural look of teeth. They can create a diagnostic mock-up that allows patients to "try-on" veneers and others procedures to see the final results based on what they're looking for. Direct Veneers in one visit (a new German technology) can change smiles, tooth fraction and severe damage in one visit.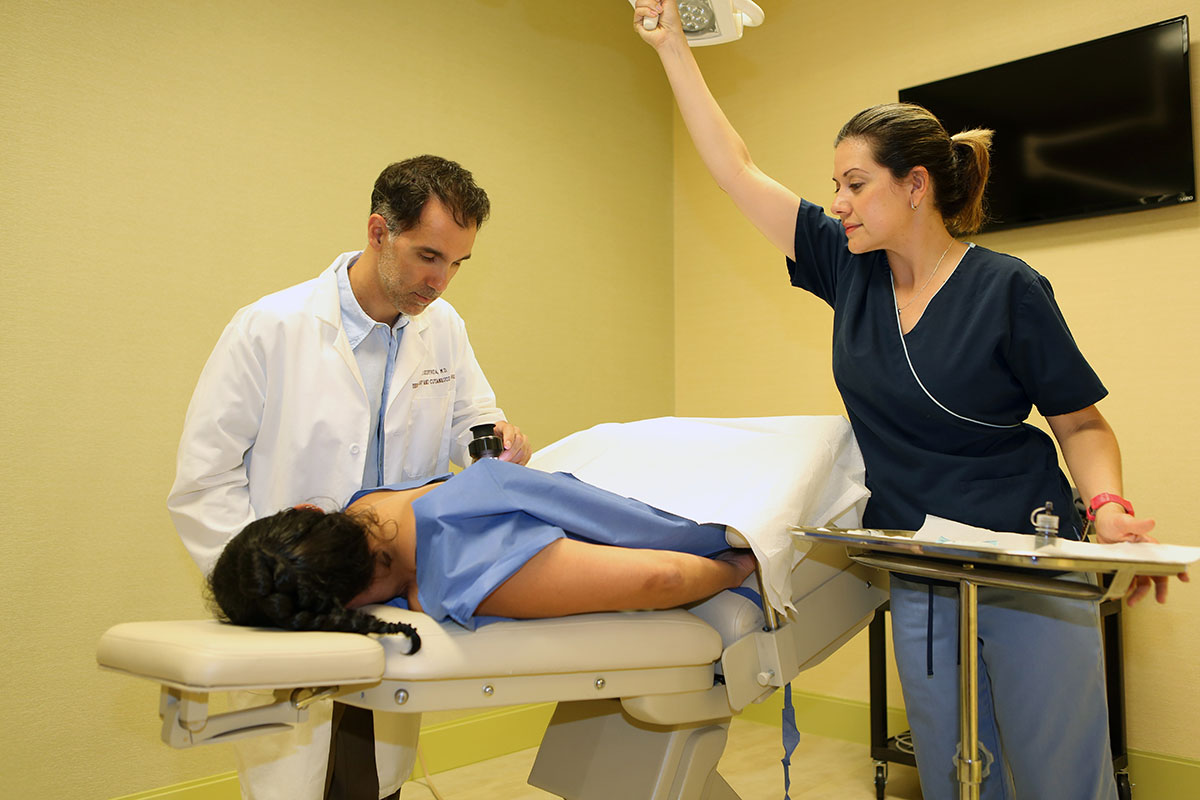 Dr. T.J. Giuffrida, M.D.
Dermatology & Skin Cancer Center
3275 Ponce De Leon Blvd.
Coral Gables, FL 33134
305.461.2000
MiamiDermCenter.com
When not at work, I'm usually outdoors with my 2 beautiful daughters," says Dr. T.J. Giuffrida. "We like to ride bikes, swim and play tennis and soccer together. Both of my children are young but are very curious about dermatology. They like to try different sunscreens and learn about the different creams they can use. Surprisingly, when visiting my office, my oldest didn't faint when watching one of my surgeries." Dr. Giuffrida is interested in all areas of skin cancer treatment and reconstructive surgery and is one of the few Fellowship-Trained Mohs Surgeons in Miami. He has been in private practice since 2006 and recently added hair transplantation surgery to his repertoire. "Professionally, I have added a physician's assistant to my practice and would like to expand by hiring another dermatologist who shares my views on patient care," he says. "This will continue to allow me to provide excellent care and evaluate patients as quickly as possible when needed."
"​I receive a lot of referrals, which is one of the highest compliments I can receive. I strive to personalize every patient's experience and reduce the amount of wait time in my office. This sets me apart from other practices in Miami."
Signature Treatments
Mohs Micrographic Surgery is the most effective, advanced treatment for skin cancer today, with cure rates up to 99%. It relies on surgically removing the cancer in stages, one tissue layer at a time, and examining the tissue with a microscope to trace and ensure removal of the skin cancer. This yields complete cancer removal, while minimizing healthy tissue loss. It also reduces any chance of cancer regrowth and lessens the potential for scarring. Also, Hair Transplantation Surgery is now a state-of-the-art surgical treatment for hair loss, redistributing your existing hair to balding areas to yield a natural result.