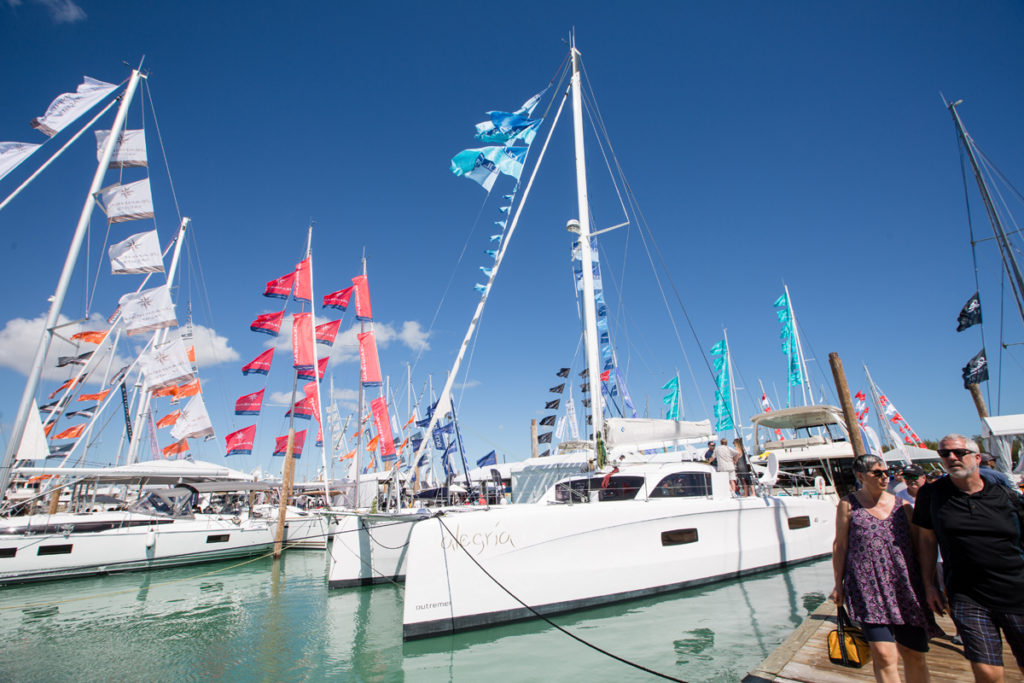 Dropping Anchor
The Miami International Boat Show is more than just another great boat show. It's a celebration of Miami's unique relationship with the beautiful waters around us. As the show enjoys its 79th Anniversary of triumphing over economic ups and downs, luxury taxes, dramatic location changes and more to return once again to Key Biscayne, it brings along with it a $854 million economic impact to Miami and the State of Florida. This year's show spans 90+ acres at the Miami Marine Stadium Park & Basin and is host to 1,100 exhibitors, including 500+ marine accessory vendors, who will showcase thousands of products from the latest marine technologies, gear, apparel and fishing tackle to the newest engines from the world's leading brands. Additionally, the docks will feature more than 200 opportunities for sea trials. Over at Sailor's Cove, a show within a show, those who love the glory and glamour of wind power will find everything they need including their own elite VIP area. Shop top sailboats, sailing yachts, catamarans and all the accessories your maritime heart could desire; MiamiBoatShow.com.
Show Navigation 101
As we kick off a new decade, we can firmly state that after a rocky start, accessing the Miami International Boat Show has improved each year due to $1 million+ invested in free transportation options to drop attendees directly inside the show. This year's comprehensive transportation plan offers several options to suit each visitor's needs. The most popular are the multiple Park & Ride locations (Hickman Garage, West Lot Garage, American Airlines Arena, Bayfront Park) from which guests can get a free shuttle bus that will drop them off at the front entrance where they can purchase tickets if needed. There's also a special shuttle bus route from The Ritz-Carlton Key Biscayne to help more local residents enjoy the show. The free Water Taxi is the most scenic way to get to the show and you can purchase tickets at both locations (American Airlines Arena and Bayfront Park) or show a printed or mobile ticket. Exhibitors and other VIP individuals must have their credentials before boarding. No Water Taxi in sight? Check its location on the Miami Boat Show App from RaftUp Technologies. Those coming from Fort Lauderdale and Palm Beach will find it a breeze, just hop aboard the Brightline Virgin Train, then take a free shuttle from the station. Use Code MIBS20 to receive a 25% Discount on select train tickets. Miami-Dade County residents can also opt to avoid traffic by taking the Metrorail from any station to the Historic Overtown/Lyric Theater Station, walk next door to the Virgin MiamiCentral Parking Garage and grab a convenient shuttle bus to the show. There is limited Pre-Paid General Parking and even some RV Parking available on site in Lot B on Key Biscayne, but it fills quickly. Similarly, there's dedicated handicapped parking at Lot C/Seaquarium. Uber and Lyft have drop-off/pick-up sites at Bayfront Park and American Airlines Arena, where you can then take a Shuttle Bus or Water Taxi directly onto Virginia Key. Or opt for the more posh choice: Valet Drop-Off & Pick-Up at the front entrance of the show. Valet, garage and lot parking can all be purchased at MiamiBoatShow.com. 
Nautical Treasures
The yachts are the superstars, the boats are the celebrities, the PWC's are the reality show celebs, which seems to leave the gear and gadgets as the extras. Hardly! The cutting-edge gadgets and gizmos at MIBS and Miami Yacht Show will make you want to head directly to the tents.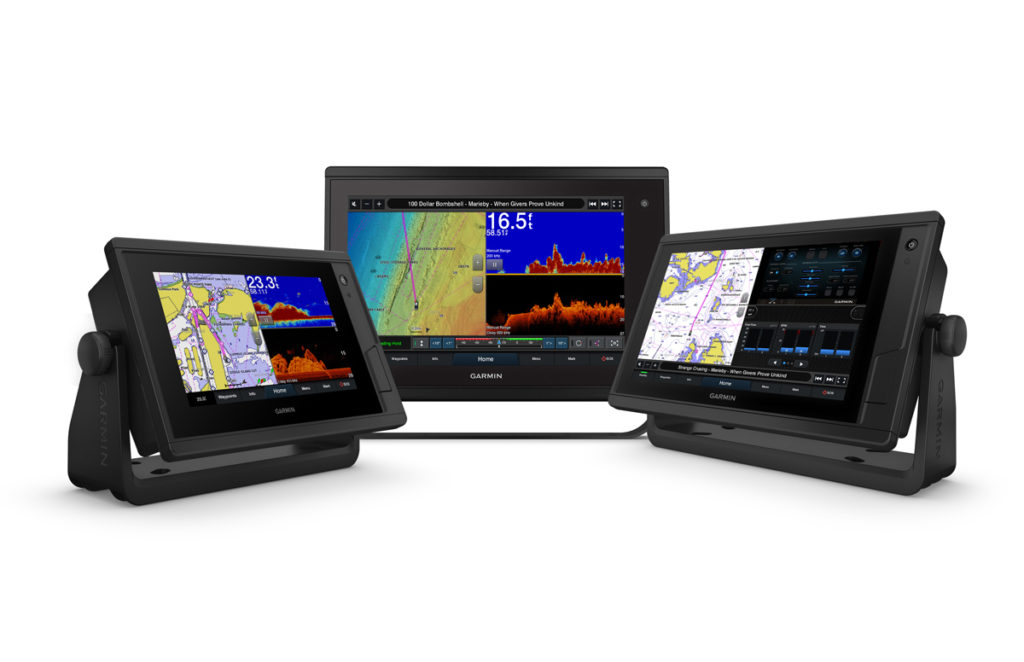 Full Speed Ahead
The latest addition to Garmin's flagship GPSMAP lineup of premium multi-function displays (MFDs), the GPSMAP Plus brings increased engine integration and OneHelm third-party integration. What these features mean in layman's terms is a boating experience that is more automated and fluent at the helm, while eliminating the need for multiple control displays and devices. Plus it offers some amazing sonar capabilities right out of the box; Garmin.com.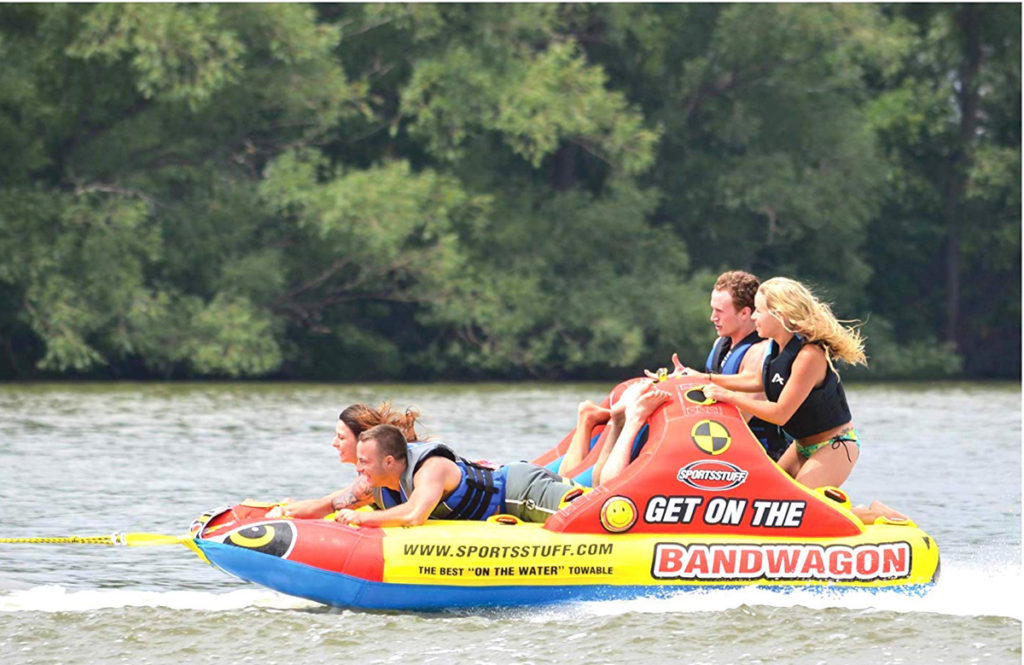 Wild Ride
Get on the bandwagon with the new 4-rider Bandwagon 2+2. Sit forward, backward, kneel or lay down, this innovative towable is ready for whatever style of ride you're craving. The state-of-the-art high-back recumbent mesh seating, EVA foam floor pads, and foam seat bumpers are designed to keep you in place as you enjoy all the heart-pounding action; SportsStuff.com.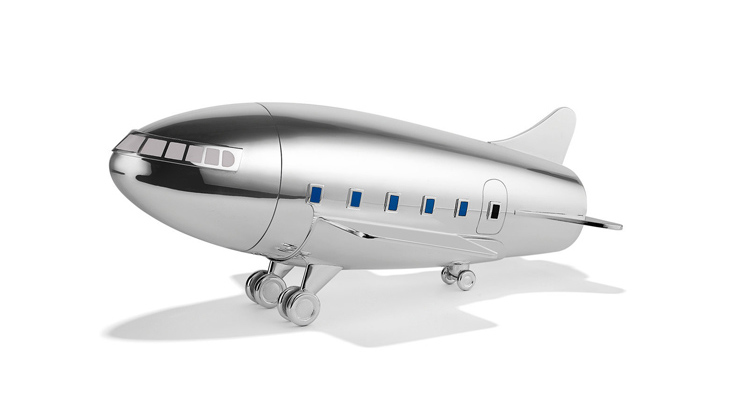 High-Flying Cocktails
Got a yacht but no airplane? Now you can have both and host golden-age cocktail hours aboard that are the envy of the yachts berthed near you. This Sterling Silver Shaker is spun in the shape of an airplane inspired by the original Boeing Stratoliners which first flew commercially in the late 1930s. No detail has been overlooked — from the enameled cockpit and cabin windows to the clever wheel base, it's yachtsman priced at $12,150; Asprey.com.
Wow Factor
The massive 278 ft. SilverYacht superyacht aptly named Bold is not only the largest yacht at the 32nd Annual Miami Yacht Show, it could be the mission statement for the entire show as well. Settling into its One Herald Plaza location for the second year, this magnificent extravaganza features a 60-acre display, including a massive 67,000-sq.-ft., climate-controlled on-land pavilion space accommodating 200+ yachting & luxury lifestyle exhibitors. Anchored within the show's Sea Isle Marina just north of the Venetian Causeway, and also in-water between the Venetian and Macarthur Causeway, are a pair of Premium Floating Cocktail Lounges for oasis-seeking luxury enthusiasts looking to enjoy world-class cocktails and music overlooking the water and the fabulous Miami skyline. But, as they say on game shows and infomercials "That's not all!" — The Miami Yacht Show will also house the largest, show-stopping mega yachts and "giga" yachts at Superyacht Miami located at Island Gardens Deep Harbour on Watson Island. This posh locale is also home to the Windward VIP Lounge, which returns to offer exclusive VIP benefits including unique experiences, admission to the esteemed Superyacht Miami, access to a premium open bar, gourmet food, festive happy hours and other events. All show attendees can expect pop-up food and beverage stations featuring top Miami restaurants, yacht toys and exotic and collectible automotives. To keep things convenient, water taxis connect the Miami Yacht Show and Superyacht Miami to the Miami International Boat Show on Virginia Key; MiamiYachtShow.com.— Top photo by Guillaume Plisson; Aerial show photos by Forrest Johnson.