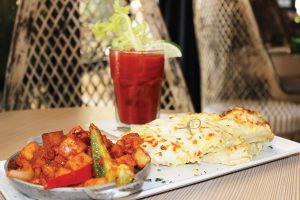 Pairing Palace
Because drinking before noon is not only allowed, but encouraged, there's a Do-It-Yourself Bloody Mary Bar at Love Is Blind for customizing cocktails. Rather not play mixologist? Indulge in a mimosa and don't despair if you lose count…they're only 99¢. You won't forget their ham, egg & mozzarella Breakfast Calzone because when it gets to the table all the other diners will give you a jealous glare. It's hard to debate the logic that everything tastes better with bacon; especially when it's the garnish for Chicken & Waffles, where an army of Southern fried chicken breasts, crisp Belgian waffles and Applewood bacon are ready to fight your personal battle against hunger. Enjoy the decadence Saturdays and Sundays from 10 a.m.-4 p.m.; 225 Altara Ave.; 305.748.6118; LoveIsBlindRestaurant.com.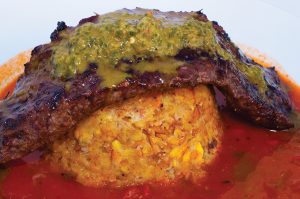 Fusion Feast
Pinecrest may not be centrally located, but they're at the heart of an emerging brunch scene of which Jimmy'z is the focus. Give your tastebuds a twirl with Puerto Rican-inspired dishes like Arañitas, crunchy yet delicate plantain fritters over Caribbean rémoulade. Here, you can say goodbye to cheesesticks and hello to Bolitas De Queso prepared with monterrey jack & cheddar inside and lightly breaded outside resting on a sweet & sour guava reduction. It just aches to be paired alongside a Well's Banana Bread Ale from their selection of craft beer. Satisfy your senses Saturdays and Sundays from 11 a.m.-3 p.m.; 9050 S. Dixie Hwy.; 305.670.1501; JimmyzKitchen.com.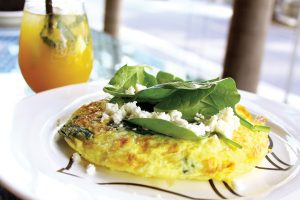 Noble Noshing
At Batch, you could spend a few hours playing a 9-hole course, catching a new release or sampling your choice of bellinis, mimosas & sangria. And this place tempts you with their unlimited top-shelf offerings of the latter. When you're ready to make the transition from liquids to solids, take a shot at the hearty Hanger & Eggs, featuring locally sourced steak and rosemary-seasoned homefries topped with a sunny-side up egg. There are some furious red velvet cupcakes wondering who stole their frosting…and guess what…it was Batch's frisbee-sized Giant Cinnamon Bun made from Danish dough dusted with cinnamon-brown sugar and topped with a healthy smear of whipped cream cheese. Brighten your Saturday and Sunday from 11:30 a.m.-4 p.m.; 30 SW 12th St.; 305.808.5555; BatchMiami.com.