One of the best ways to learn about wine is to visit a wine region. Places that come to mind when discussing viticulture are California and Oregon, but you can also add Florida to the list. Yes, there are plenty of world-class vineyards and wineries in The Sunshine State. If you're ready for a day trip, road trip, or romantic weekend getaway, visiting a Florida winery and taking a tour of the vineyard can be the ideal way to escape city life, as well as support local Florida businesses. Most of the wineries in the state are family owned & operated, and they offer wine tours and tastings throughout the year. While many have restaurants on-site, the ones that don't, encourage visitors to pack a picnic, purchase a bottle of wine and make themselves at home. 
Bunker Hill Vineyard & Winery
8905 Bunker Hill Rd.
Duette, FL
941.776.0418
BunkerHillVineyard.com
Opened in the Summer of 2010 by husband-and-wife team, Larry & Lenora Woodham, Bunker Hill Vineyard & Winery hails itself as America's greenest winery. The couple run an environmentally responsible vineyard and are committed to reducing the carbon footprint that impacts our planet. They eliminated the use of electricity from the grid and opt for alternative forms of energy whenever possible. The duo run a certified green (at the master level) and sustainable business that uses 100% recycled wine bottles. No fertilizers, chemicals, or fungicides are used in the wine-making process, and the land is also a Certified Wildlife Habitat. The winery works with 7 different muscadine grape varietals that are native to Florida and grow all the grapes at the vineyard. They produce over 40 varieties that include grape, fruit, vegetable and tea wines. All the wines are unfiltered and have no chemicals added. The wines are sold on-premises and can be shipped all over the U.S. Additionally, natural fruits and vegetables are used, making the wine seasonal. When the fruit is in season, so is the wine. The top wines and "must-tries" are the Foxy Red and the Forest Keeper white wine. The vineyard offers wine tastings, hors d'oeuvre trays, tours and spirit & orb walks, among many other activities. They also offer accommodations for those wanting to stay overnight. The Wine House is located next door to the vineyard and a stay includes a complimentary wine tasting and tour.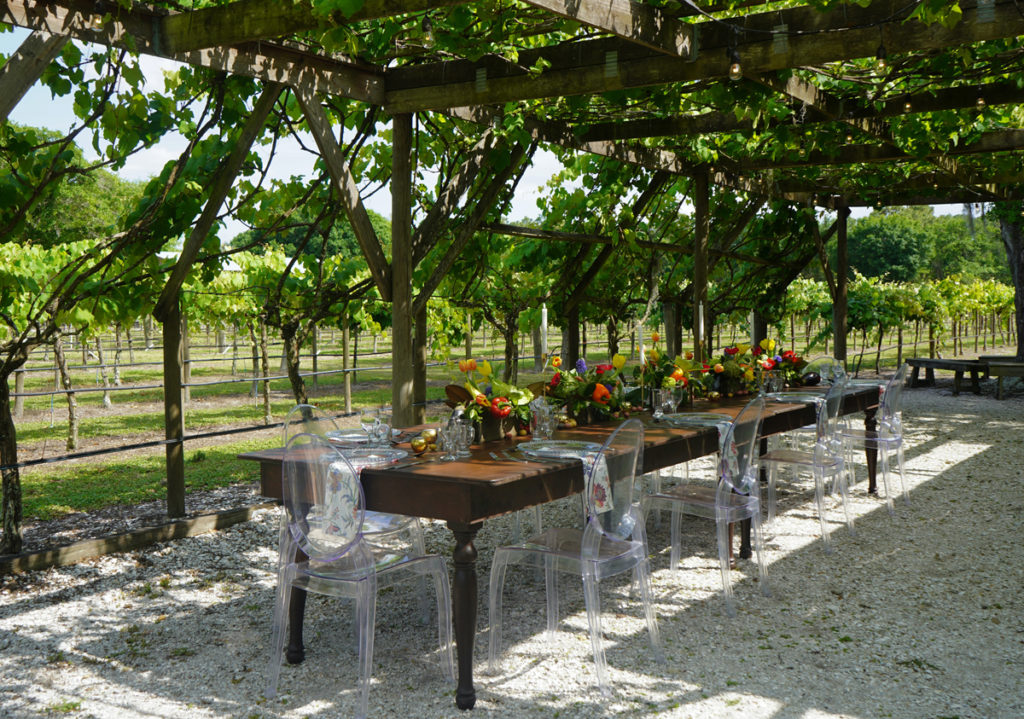 Fiorelli Winery & Vineyard
4250 Co Rd 675 E.
Bradenton, FL
941.322.0976
FiorelliWinery.com
John Hokanson and his wife Kristin always dreamed of owning a beautiful property where they could host events, and that dream came true when they purchased their picturesque vineyard. The original owners (and founders) were native Sicilians, Antonio & Rosa Fiorelli. In the '90s, The Fiorellis purchased 10 acres of rural property in Manatee County and began cultivating the land with fruit-bearing trees and grape vines. By 1998, Antonio had officially announced the opening of the winery. Unfortunately, in December of 2013 Antonio passed away and the Fiorellis decided to sell the property. It changed hands once before John & Kristin, both restauranteurs, purchased it in April 2021. Among the grapes grown are muscadines, a grape varietal with a higher-than-normal antioxidant content. It is not only native to Florida but also to other areas in the South Central and South Eastern U.S. The remaining varietals are hybrids that resemble California vinifera. A "must-try" wine at Fiorelli is Breeze, a semi-sweet blush, light fruity, and refreshing wine; and the Manatee Red, a semi-dry, medium-bodied red wine named exclusively to commemorate the beautiful land surrounding the Manatee County vineyard. Fiorelli Winery & Vineyard is open weekends and offers tastings every hour. John and Kristin also have plenty of summer events taking place, from wine in the garden and guided tours to live music, hosted events in the beautiful on-property pavilion and dinner pairings.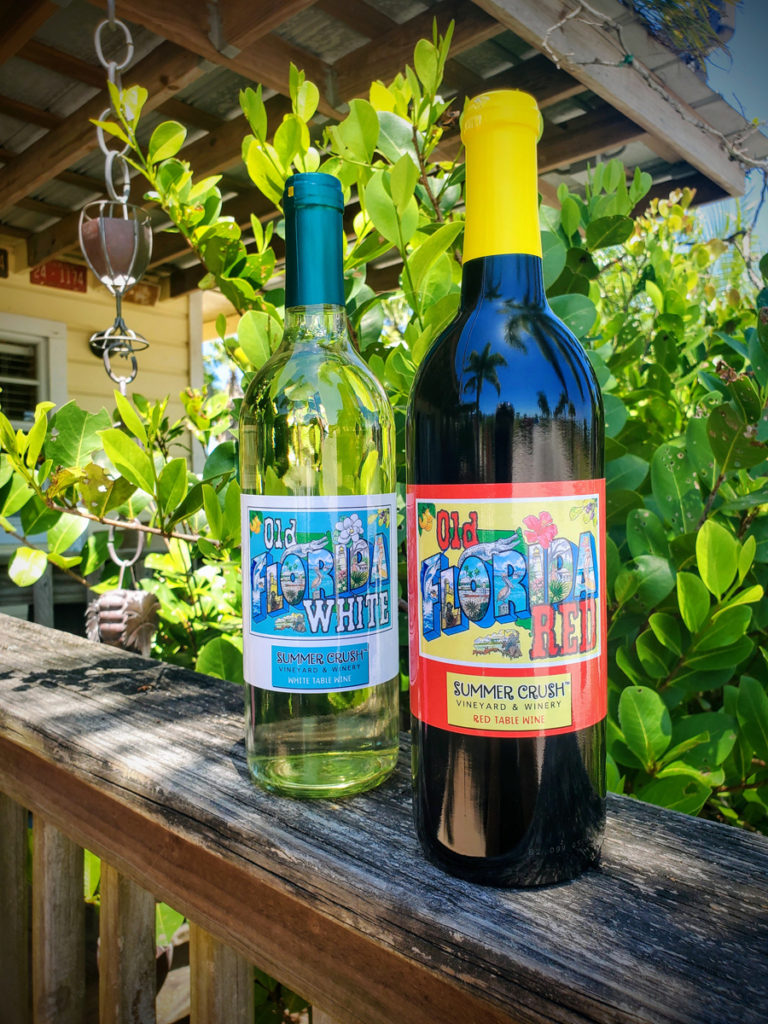 Summer Crush Vineyard & Winery
4200 Johnston Rd.
Fort Pierce, FL
772.460.0500
SummerCrushWine.com
Owned by the Roberts family, Summer Crush Vineyard & Winery is the result of Founder & Vintner Gary Roberts' passion for Old Florida history. Growing up in Florida, Gary began surfing at the age of 11 and started amassing a prolific collection of classic surf boards and memorabilia in 1972. Some of his collection is displayed in the tasting room and pavilion of the winery. Gary's wife, Susan, and his sons, Bud and Allen, encouraged his quest to open a family-run winery and in July 2012 Summer Crush Vineyard & Winery opened its doors. The 10-acre vineyard grows Noble, Carlos and Doreen varieties of muscadine grapes, and makes a few specialty fruit wines with pineapple and mango. The wine is sold on-premises (a few local retailers sell the wine as well), and wine tastings and tours are offered throughout the year. On weekend afternoons, they offer live music and food trucks. It's become a celebrated music venue for local talent as well as established artists from around the world. Some of the award-winning wines from their roster are the Old Florida White, a bestseller, and the Cap'n Polly's Private Plunder, a muscadine port wine aged in bourbon barrels. Some out-of-the-ordinary things the vineyard offers: A 9-hole disc golf course, and if you have an RV you can stay via Harvest Hosts, a membership program that offers access to a network of wineries, farms, breweries and museums to RV'ers for overnight stays.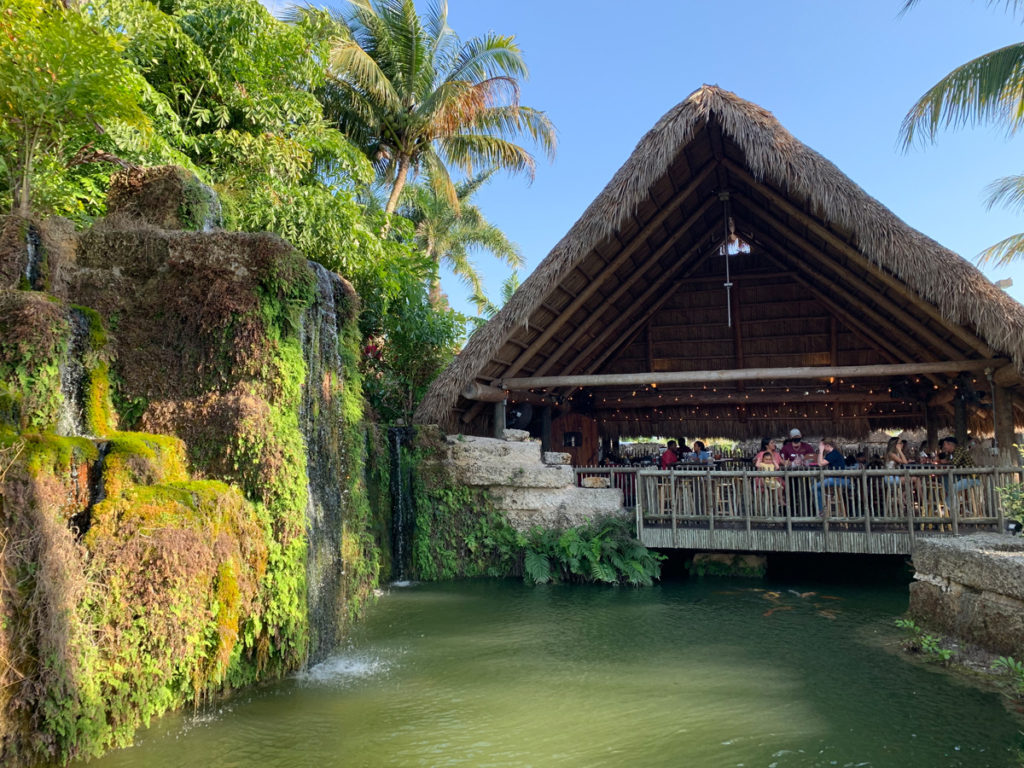 Schnebly Redland's Winery & Brewery
30205 SW 217th Ave.
Homestead, FL 305.242.1224
SchneblyWinery.com
Surrounded by acres of farmland and nestled in the heart of Redland, Schnebly Redland's Winery & Brewery is the southernmost winery in the U.S. Here, you'll learn that not all wine has to come from grapes. Founder and local farmer, Peter Schnebly, owns the estate and creates wines handcrafted with native fruit — from mangos to guava, passionfruit, starfruit, lychees, and even avocado. You can also indulge in farm-to-table cuisine at their outdoor tiki restaurant surrounded by a tropical setting and views of the coral manmade waterfall. The winery is open daily, offering tastings as well as tours. Their well-attended Encore Drive-In Nights are back, featuring an exclusive taped concert experience which airs in special venues around the country. On Friday, enjoy happy hour and on Saturday and Sunday live music by local artists. Schnebly is not only home to a winery and a restaurant, in 2011 Miami Brewing Co. was established. Make a day trip of this experience and enjoy a delicious meal made with locally farmed produce, sip on some fruity wine, or sit back and enjoy the lush surroundings with a custom-crafted brew.