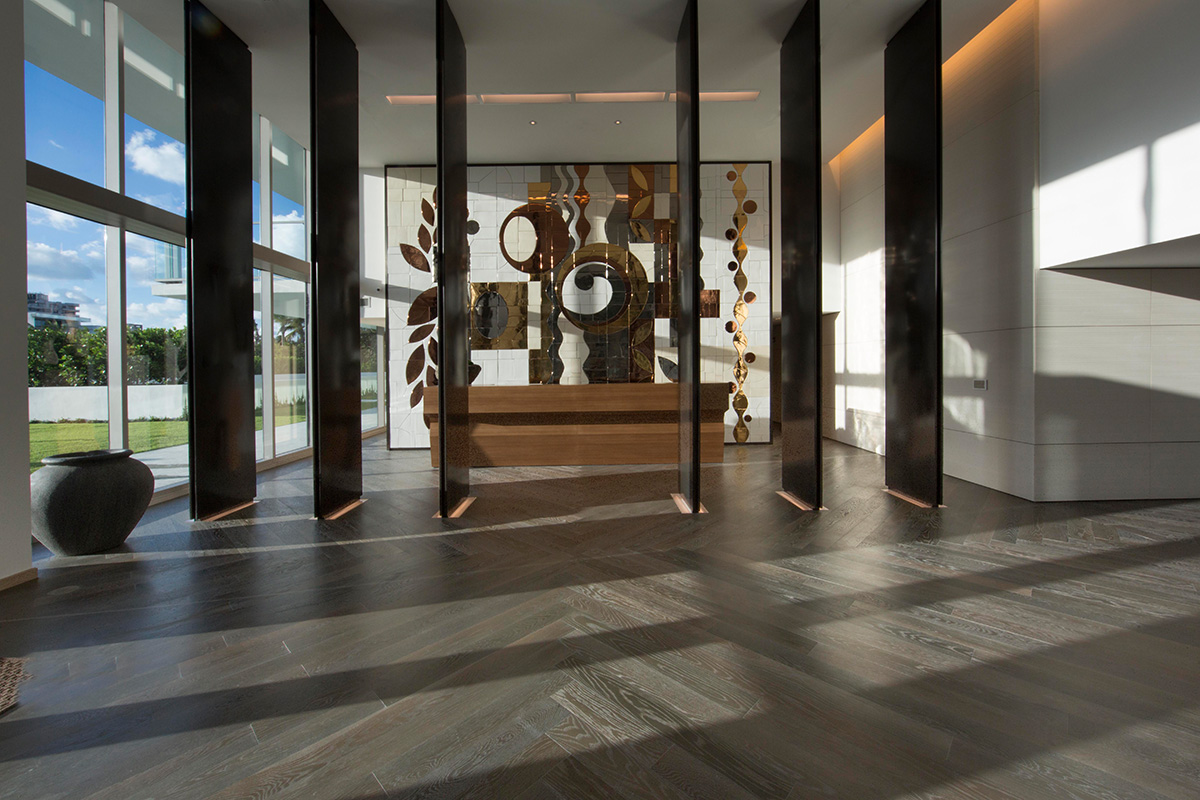 Art Basel comes to Miami once a year, but residents at Oceana Key Biscayne are surrounded by the curated selections of powerhouse art collector Eduardo Costantini every day. The unparalleled Commissioned Art Program includes world-class pieces by Beatriz Milhazes, Artur Lescher, Leo Battistelli, Elba Bairon, Alejandra Seeber, Nushi Muntaabsk and Gachi Hasper.
"I felt the need to undertake an art project for the residents of Oceana Key Biscayne because art has been a big part of my life since I was young," says Costantini. "The presence of artworks in our habitat — in this case, works produced by contemporary artists from Latin America for the building — moves us on an emotional level and transforms the spaces we inhabit with vibrant energy."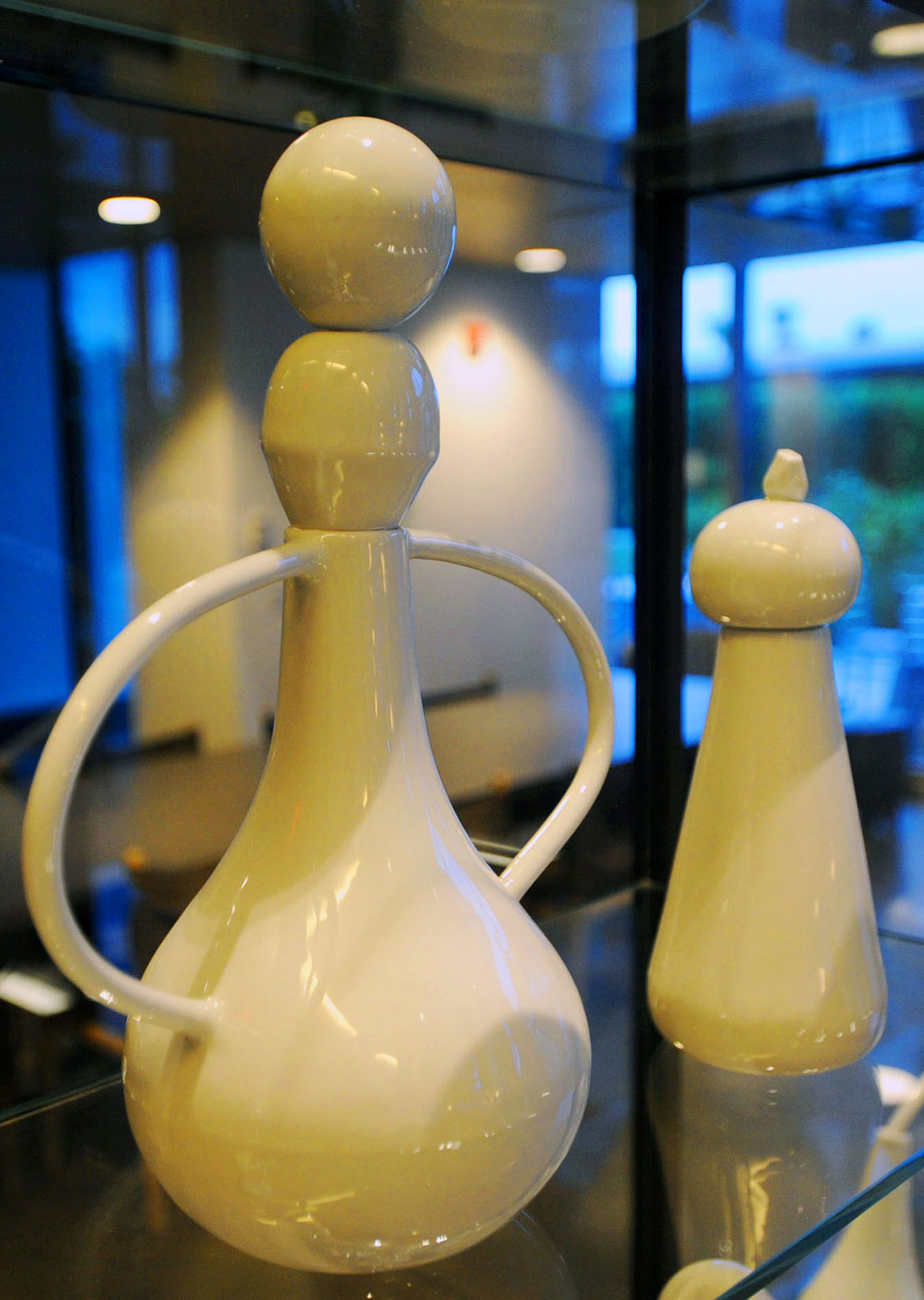 When Costantini donated his art collection to create the Museo De Arte Latinoamericano De Buenos Aires (MALBA) back in 2001, it was his first physical expression of his need to create "architecture for art." This insightful vision of collecting contemporary art as part of real estate development would ultimately become a signature of Consultatio developments. "Oceana Key Biscayne formulates a specific modality in the visual arts insofar as it entails commissioning young artists to produce site-specific works conceived in dialogue with the architecture or landscape in which they are located," he says.
These carefully chosen artists include distinguished Brazilian sculptor Artur Lescher, whose work represents the power of an artistic and visual axis. His two identical elliptical sculptures stand at the end of the building's outdoor breezeway, reflecting images of the sea, landscape and passersby. Their key position between architecture, sculpture and landscape leads people in and invites them toward Oceana Key Biscayne's interior.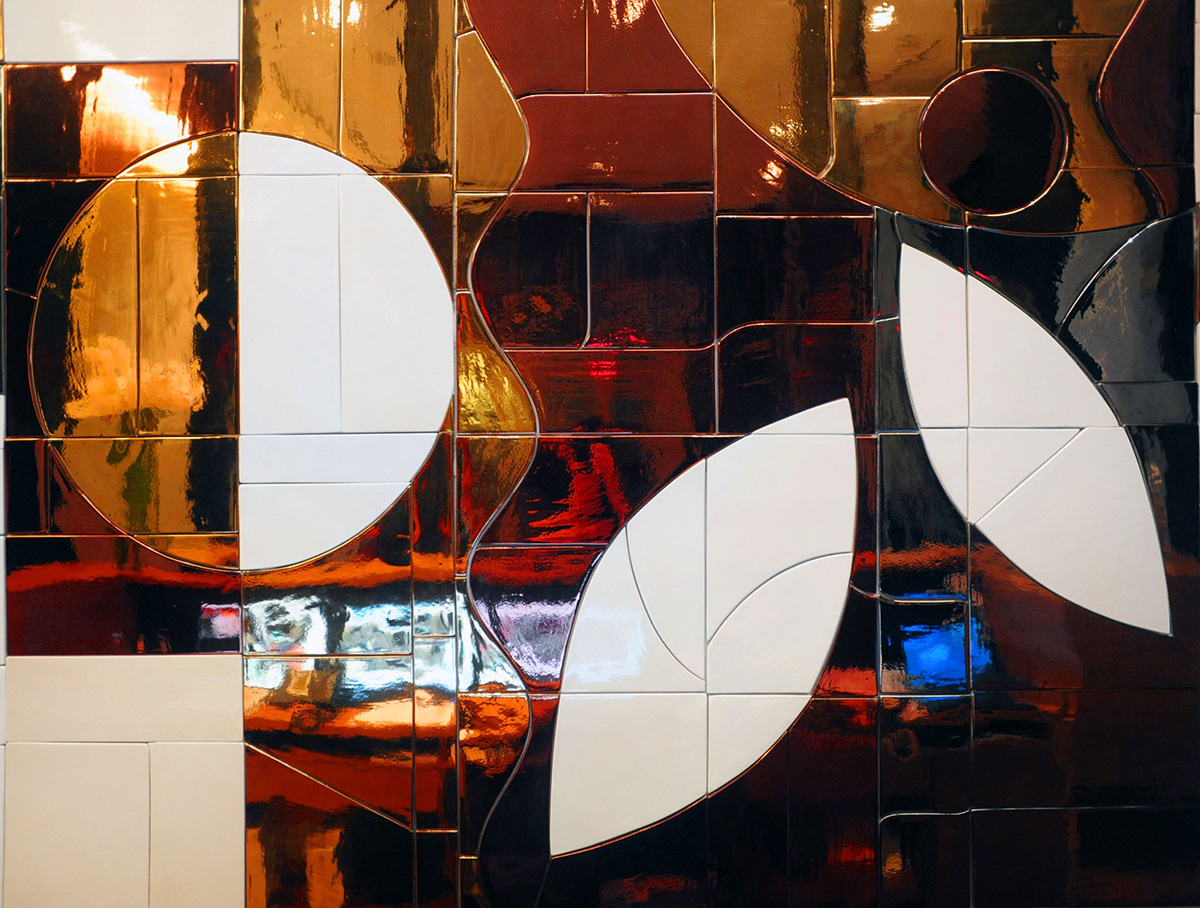 Brazilian artist Beatriz Milhazes, whose first solo museum show in the U.S. took place last year, has a pair of art murals on permanent display in the building. The project resulted in the transition of Milhazes from her paintings to a more lasting material for the building's central space, all while retaining the power of her colors and references to the sensuality of Brazilian culture. Using handcrafted tiles for the first time, and her baroque style with gold, silver and analogues, her murals inspire a bountiful sense of joy and wellbeing. Each tile was made by hand by Cerámicas Suro, a family business based in Guadalajara, Mexico.
Elba Bairon and Leo Battistelli were chosen for the Reading Room, where they decided upon a visual presence of delicacy. The bookcases don't hold books but rather insinuate a haven for reading, as well as being a place of rest and functioning as a waiting area. The display cases were structured geometrically with the variables of protrusions, hollows, horizontal and vertical interactions. The outcome is a dynamic space with reflections that change with the hours of the day. Battistelli veered more toward an alchemist's cabinet with a postmodern minimalist sensibility and beakers with unusual and sensual shapes. Bairon's contribution combines paper mache, plaster sculpture with resin and smelted metals shifting from a bone and sea morphology to soft, delicate forms that have the light feel of cotton or marshmallows to generate atectonic sensations.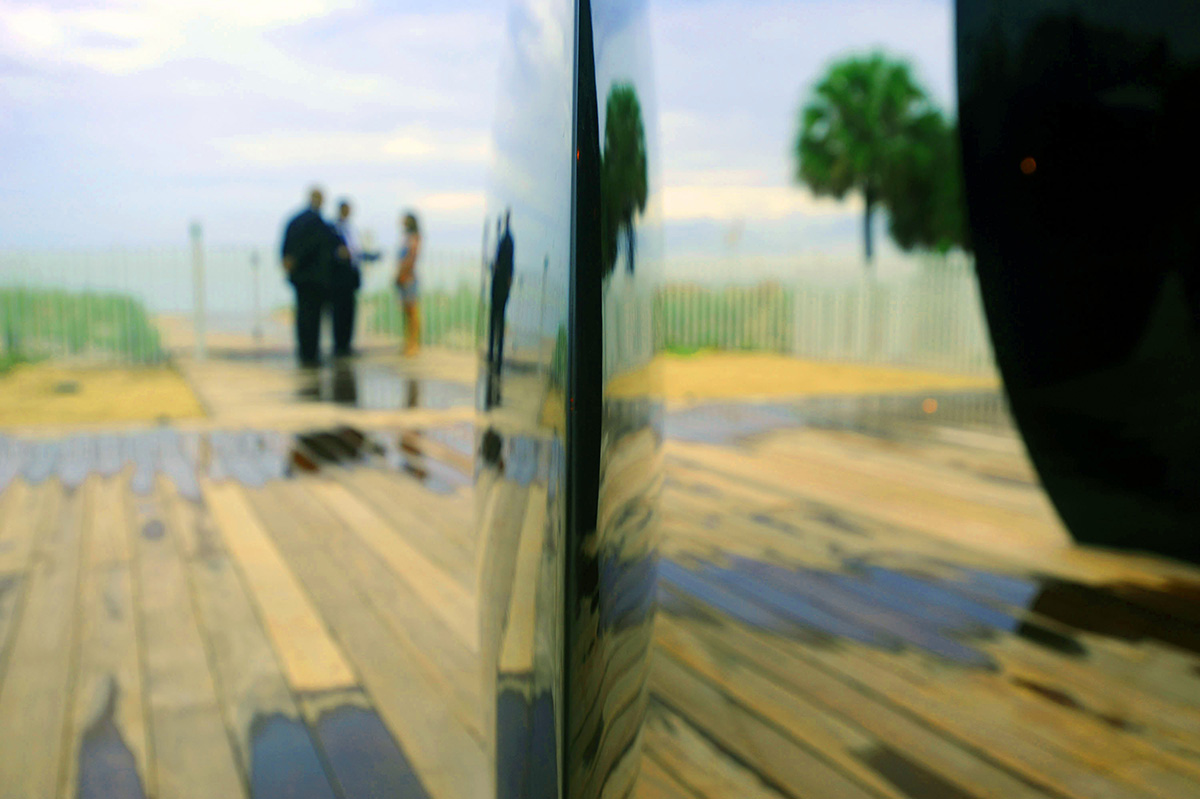 Colorists Alejandra Seeber and Gachi Hasper created eruptions of color and joy in the recreational spaces that see greater social interaction. Seeber, who has worked with bubbles in earlier works, used them in the Entertainment Room, a youth-oriented space where the surrounding artwork yields instant smiles and encourages dialogue and boisterous interactions. Hasper's work utilizes flowing waves of color on the large windows of the Party Room, opting for a serene palate to focus on the excitement of social gatherings. Hasper had always thought of paintings as windows; in this case the window continues to perform a literal function as well.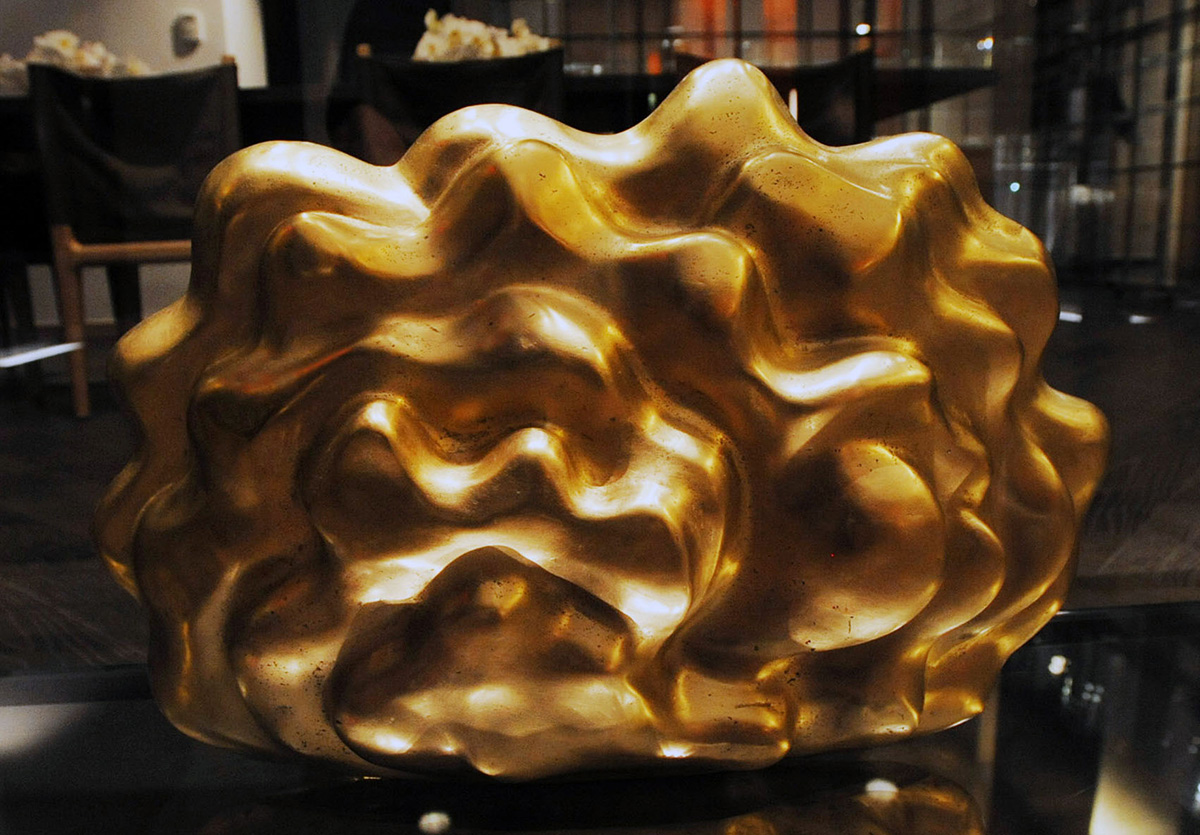 Nushi Muntaabsk undertook the challenge of making the rotunda entrance an organizational space as well as a work of art in and of itself, with vegetation further complicating the design. The artist combined her experience with Venetian tile and a delicate aquamarine palette partly inspired by the setting and partly conceived as a tribute to Emilio Pettoruti, a major 20th Century Argentine painter and colorist. Serenité is the precise convergence of the rotonda's useful function, including its opening for a pedestrian walkway, and conscious work on the surface to give rise to a zenithal view, its fifth façade.
"We have tackled the challenge of intervening in the building's architecture and of combining artistic concepts with interior design to achieve warm and harmonious coexistence with the landscape," says Costantini. "Our integral vision brings together a wide range of elements. Indeed, that is the identity, the distinctive seal, of our projects. We have heeded the sublime beauty of the surrounding bay as well as environmental concerns in imagining daily life at Oceana." On that basis, he concludes, it was their intention to make aesthetic experiences part of daily existence, allowing everyone to enjoy artwork as shared assets while also cultivating individual experiences born of more personal contact with the art.
Oceana Key Biscayne's Sales Center is located at 1395 Brickell Ave., Ste. 950. For more information, call 786.414.2900 or visit OceanaKeyBiscayne.com.