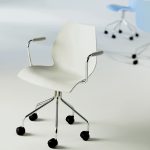 1. Maui Chair on Wheels Price: Starts at $465 Why we picked it: A powerfully post-punk piece reminiscent of the Art Deco days of yore, this particular iteration of the Maui Chair simply screams fashion all while comfortably integrating itself into any casual office décor. Available in a variety of color and arm options, the Maui's chrome steel structure and polypropylene seat yields a surprisingly light piece of accent furniture. Where to find it: Kartell, 2 NE 39th St.; Kartell.com.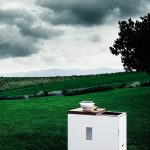 2. MiniKitchen by Joe Colombo Price: $23,500 Why we picked it: A seamless reproduction of '60s Italian designer Joe Colombo's masterfully modern module, this replete re-release by Boffi features everything one could need in an outdoor kitchen unit, including a stove, refrigerator, drawers for tableware, working surfaces and cookbook storage space. Constructed of cutting-edge materials (and a cutting board made of top-tier teak) with sockets for small electrical appliances, any suitably modish minimalist should include this amongst their list of aesthetically astute accessories. Where to find it: Boffi Studio Miami, 3800 NE 2nd Ave.; Boffi.com.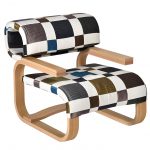 3. Daniela Chair Price: $1,775 Why we picked it: A poignantly playful piece that would look ideal in a variety of dens, receiving areas and living rooms, the Daniela Chair's checkered pattern and ergonomically intriguing shape make it the perfect piece for the discriminating shopper not in the market for just another space-taker. Providing a patiently primitivist wood frame with fabric coverings, the simple yet salty look of this posterior parker ensures its status as a conversation piece for years to come. Where to find it: Nest Casa, Brickell City Centre; NestCasa.com.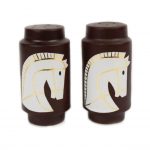 4. Derby Salt & Pepper Shaker Price: $81 Why we picked it: While it's easy to be swept away by large and showy pieces, we think it's important to impart a creative touch to even the most minor of minutiae. Which is precisely why we recommend these savory seasoning holders, guaranteed to add a piquant pinch when someone asks to pass the salt. Reminiscent of Roman terra cotta of old, these shakers are hand-crafted and high-fired in rich matte glaze with 22k gold detail, making for an ideal stocking stuffer. Where to find it: Nest Casa, Brickell City Centre; NestCasa.com.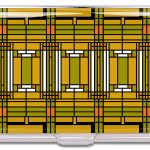 5. Frank Lloyd Wright Home & Studio Business Card Case Price: $49 Why we picked it: It's an essential part of any initial semi-professional introduction, a cultural and covenantal exchange so integral to our modern social fabric that it's been transformed into an artform. Why fish a crumpled business card out of an overstuffed wallet when you could instead endow it with the visual appeal of a modern American master? One of a number of art-influenced card cases by Musart, make future clients stand up and take note. Where to find it: Musart Boutique, 701 S. Miami Ave., Ste. 336-B; MusartBoutique.com.