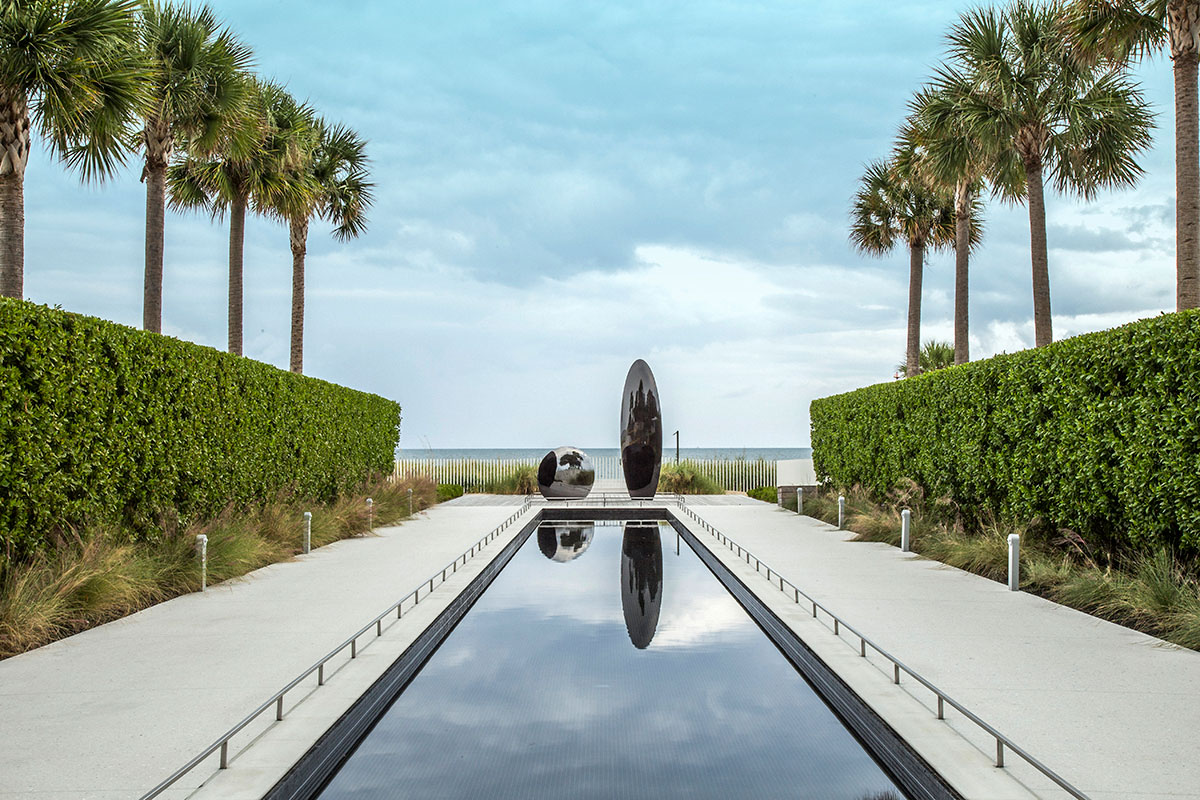 For most of Miami, Art Basel and its corresponding satellite fairs roll upon our shores, saturating our city with fine art, eccentric eats and hazy recollections of after-parties. And then it recedes, leaving most of the city missing its cultured presence, if not the untoward 3 a.m. choices that inevitably accompany it. Miamians understand that to view engaging works of art is a privilege, and so we patiently wait until December each year for the wandering mega-museum to once again grace our city. Unless, of course, you are a resident or guest of Oceana Key Biscayne, a luxury condominium with a decidedly artistic bent. Oceana Key Biscayne is a project of development titan and noted arts patron Eduardo Costantini, and as such, is suffused with some of the finest ornamental abstracts to grace a residential complex.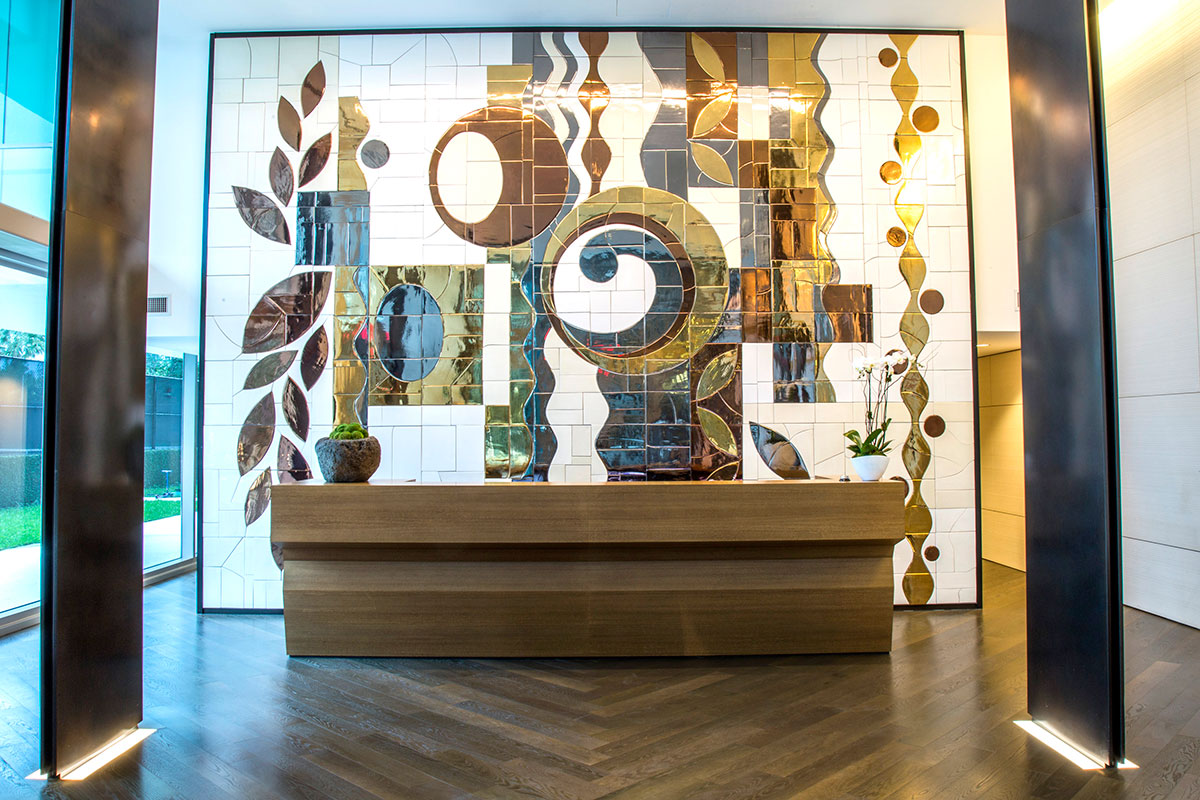 Entering the earth-toned lobby of Oceana Key Biscayne (an aesthetic achievement in its own right, by famed interior designer Yabu Pushelberg), encourages one to engage and converse with a many and varied selection of contemporary paintings and sculptures. It's hardly surprising that Costantini, the founder and original curator of MALBA (Museo de Arte Latinoamerican de Buenos Aires), would not only spotlight artists and works understated on the world's stage, but would also effortlessly weave said works into his building's gatehouse, giving what could be a humdrum administrative office a gallery feel. Works showcased include pieces by Beatriz Milhazes, Artur Lescher and Leo Battistelli, among others. All of these artists, from Costantini's own home hemisphere, have concocted masterpieces that offer residents and guests a chance to connect with bright emotions and grand images as they go about their lives. This gift is singularly difficult to equate in a dollar-per-square-foot formula.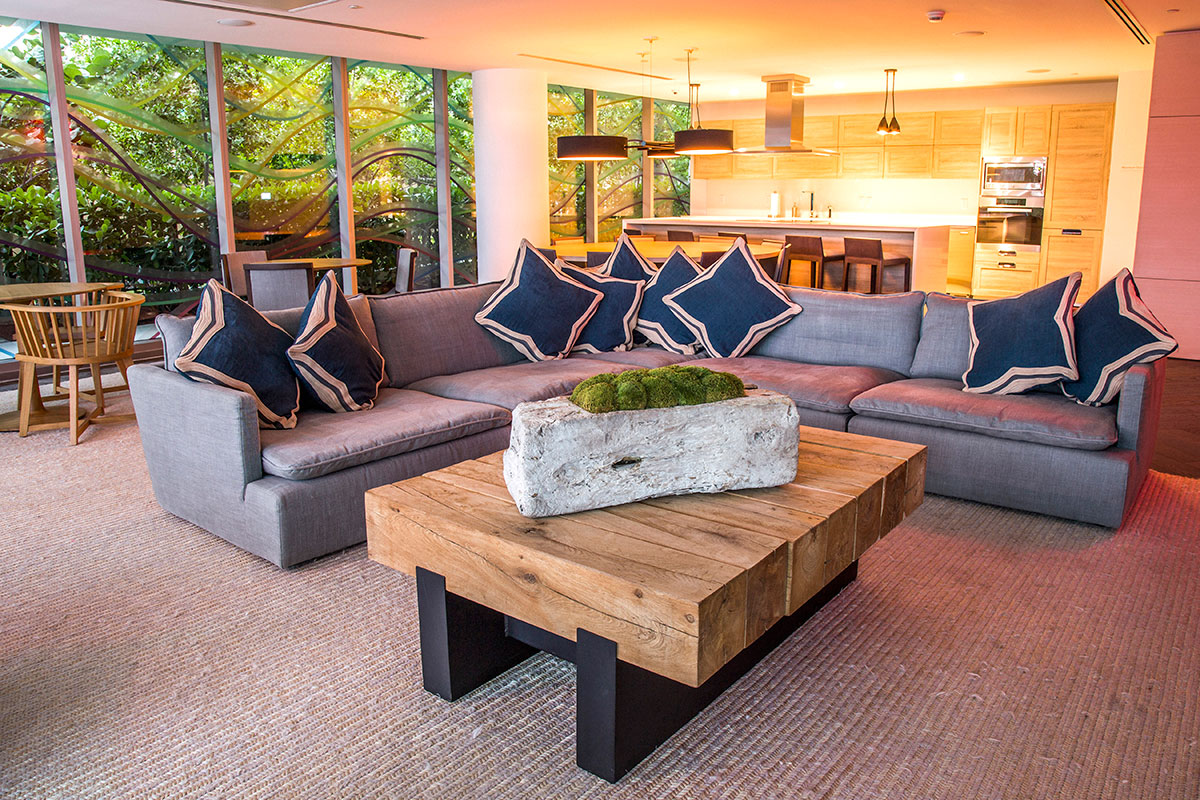 Of central importance to the project as a whole are twin murals by famed Brazilian artist Beatriz Milhazes. Her kaleidoscopic and many-hued arabesques are a small taste of what Latin America has to offer the art world, and so it's only fitting that Costantini, responsible for bringing the artist's first retrospective to the U.S., would make her work the lodestone of this edifice. Milhazes' murals, constructed of hand-hewn tile that the artist believes grants these pieces an "irregularity… and organic sensibility," are unnamed. Commissioned in 2011 and originally fabricated in Guadalajara, Mexico, the inspiration for these murals is derived from Garoto, a popular Brazilian chocolate, as well as the annual celebration of Carnivale. Comprised of gold, silver and copper, Milhazes' work sets an easing accent to the Oceana Key Biscayne complex, and like all good abstract art, invites daily study and retrospection. Costantini's central message to residents seems to be that life is to be reflected upon and enjoyed, not hurried and harried. This development encourages everyone to take their time and let it all in, one glimpse at a time.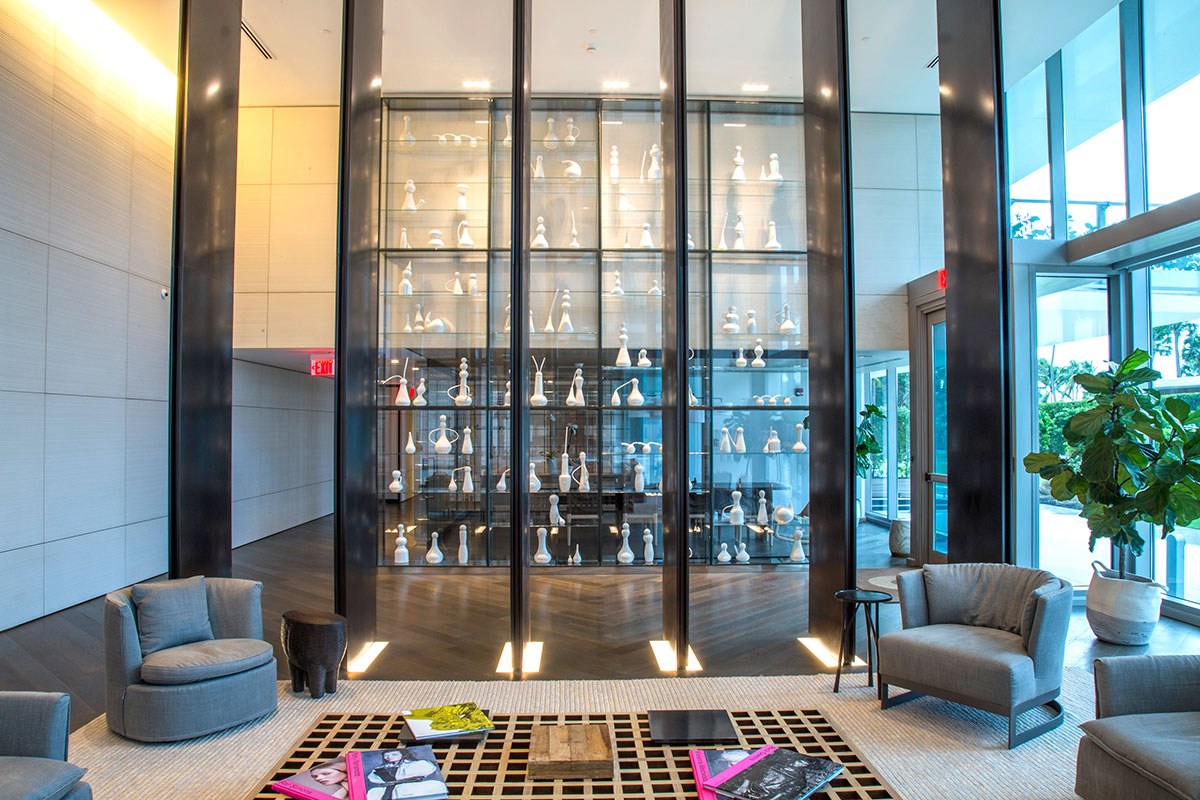 The first new condominium complex to grace Key Biscayne's shores since The Ocean Club and Grand Bay opened doors almost 13 years ago, Oceana offers those eager to inhabit an area with some of the highest per capita income in the country a prime seaside location. But make no mistake: If you want to own beachfront property on this elite islet, Oceana Key Biscayne may be your last chance. Composed of dual 14-story glass towers running perfectly parallel to the coast, the Oceana development literally glitters as a jewel when seen from the sea. Of particular note are the expansive greenways that permeate the complex. These airy micro-parks provide residents respite from the pressures of claustrophobic city life, and funnel foot traffic toward the 500 feet of private beach.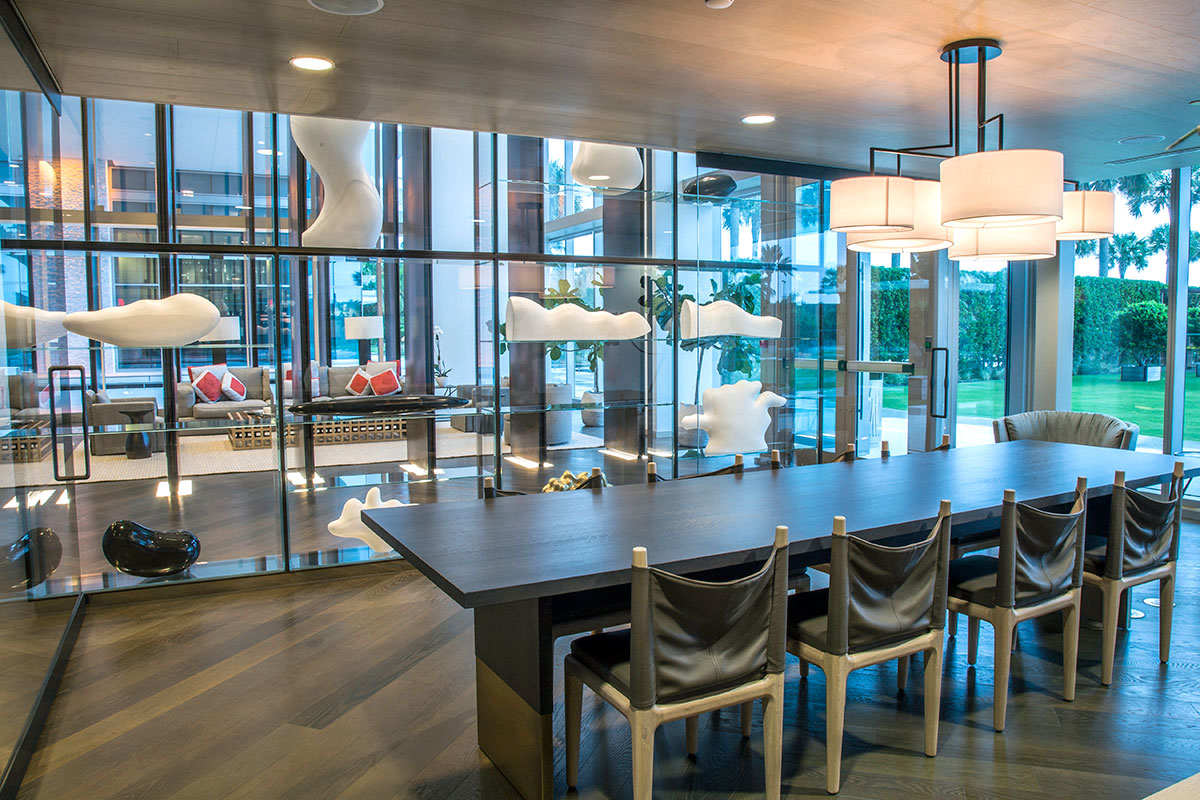 Art, even in its most modest presentation, bears hints of luxury. It's the illogical excess that makes art so captivating, these pieces that don't have to be yet are so essential and expressive. Of what utilitarian value is a Picasso print beyond the cost of paper and paint? And so it only stands to reason that this gallery living space should be well complemented by a sizeable list of elegant amenities. Besides the aforementioned 500 feet of private beach, Oceana Key Biscayne also offers residents a social lounge, a kid's playroom, a lap pool, a putting green, spa services, a tennis court and a state-of-the-art fitness center with stunning ocean views. Another feature of considerable note is the pool deck with cabanas. Such soothing accoutrement help aid the artistic tone of the building, allowing one to soak in sun like a modern-day Gauguin while accumulating inspiration for the next great endeavor.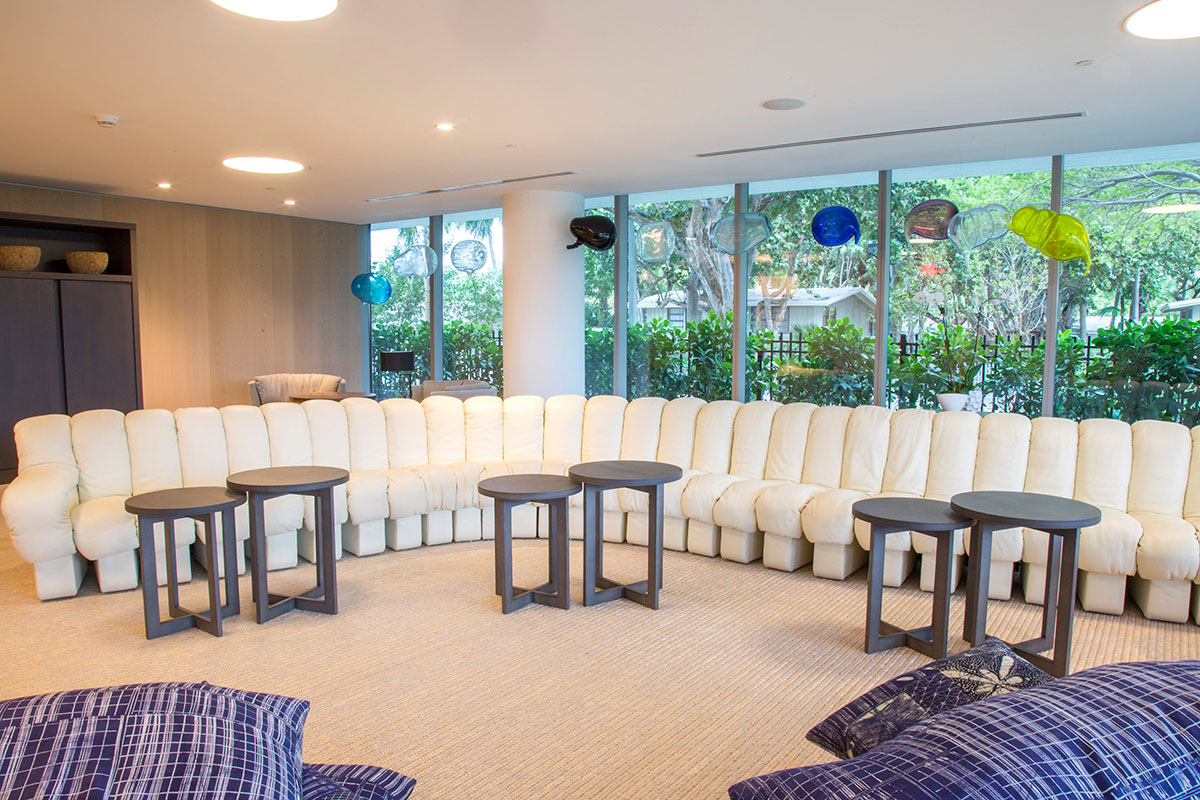 Architect Bernardo Fort-Brescia of Arquitectonica, a former University of Miami professor whose company counts the American Airlines Arena and super-modern Agricultural Bank of China as some of its many achievements, clearly wanted his building to transmit the values of its developer. To give a throughline to the aesthetic notes of the complex, all parking is relegated to the basement. This buck against the trend of gawky parking structures that jut against the skyline helps maintain the building's identity as a home first and foremost. Oceana Key Biscayne is also the first building on the island to be Green/LEED certified, hopefully pushing other new projects on The Key to do the same.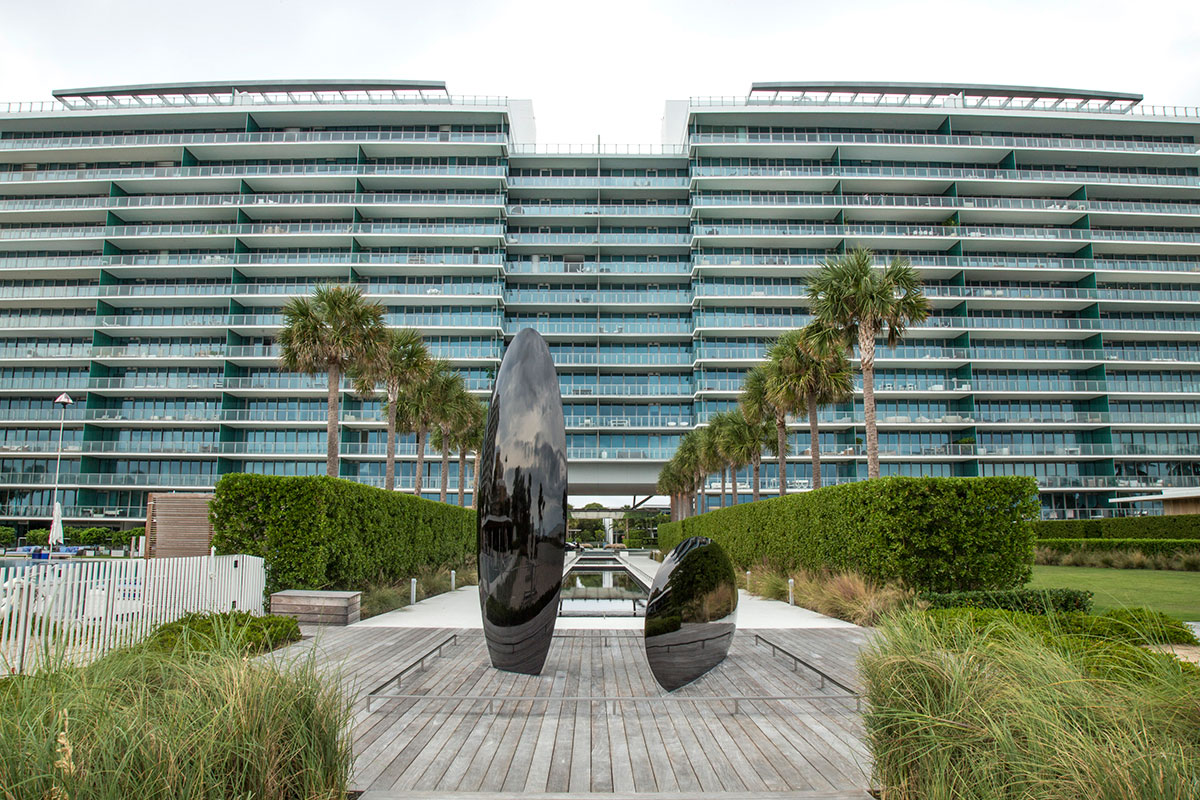 Moreover, one could not mention the environmental aspects of the building without highlighting this project's greatest and most striking feature: the ocean. Oceana Key Biscayne's entire construction was geared toward providing breathtaking views to its residents and guests. Much like the art that adorns the lobby, the staggering oceanic views invite people to stand, admire and reflect on the larger things in life. Beach service and neighboring restaurants ensure that one can easily take advantage of these vistas while entertaining.
When it comes down to it, Eduardo Costantini's vision in this Oceana series of developments reflects the union of two of his greatest passions: art and real estate. To that end, Costantini has succeeded admirably in this venture, and the greatest beneficiary? Everyone who calls Oceana Key Biscayne home.
Oceana Key Biscayne is located at 350 Ocean Dr. in Key Biscayne. For more information, visit OceanaResidences.com.